Social media and the blogs of Bill Crider's friends and fans celebrate the life of the gifted writer with tributes and recollections upon the news of his passing yesterday. Like many, I first met Bill through his wonderful blog Bill Crider's Pop Culture Magazine.
In 2015, I was fortunate enough to meet him in person at Bouchercon in Raleigh, where he signed a copy of his—at the time—current novel Between the Living and the Dead. A year later, he graciously agreed to be interviewed via email and responded to general questions about his career, and highlighted some of his short stories and articles for magazines and zines like The Not So Private Eye, Black Cat Mystery Magazine, New Mystery, Hardboiled, and Ellery Queen.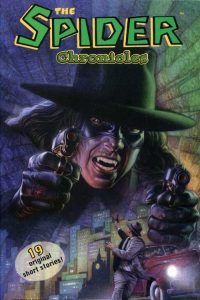 When asked about his terrific story, "The Marching Madmen," starring The Spider, he shared the inside information:
"I was invited to write a story for The Spider Chronicles, and the invitation came at a time when I'd been reading a lot of Novell Page Spider novels. I'm easily influenced by the writing style of other authors, so it seemed as if it would be easy to sit down and write a story like the ones I'd been enjoying. It wasn't as easy as I thought it would be, so I'm glad you think it turned out well. Writing the story kind of burned me out on The Spider, and I haven't read any other Page novels since then."
Rest in peace, Bill Crider, your stories and kindness, that touched so many lives, lives on.