The second story from Justice Amazing Detective Mysteries #3, October 1955: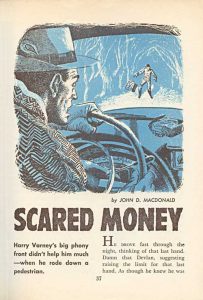 By 1955, John D. MacDonald had already written a dozen novels, so Justice editor Harry Widmer was fortunate to secure a short story from the prolific author. MacDonald's fine writing is the only bright spot in this story of a gambler who kills a pedestrian on his drive home from another in a string of big losses. The vapid ending does nothing help this lackluster tale.
A grandmaster of mystery writers, "Scared Money" is not a good representation of MacDonald's normally exceptional work.