The third story from Justice Amazing Detective Mysteries #3, October 1955: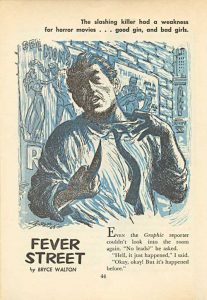 Lieutenant Carl Maxson is surprised when Captain Burkson, reinstated from retirement, is assigned to the lead in a breaking murder case. The victim's brutal knife wounds signal the return of a serial killer Burkson was never able to catch during his previous career. To uncover the killer's identity, Burkson convinces Maxson they must get into the murderer's mind to best him. The final lines of Bryce Walton's "Fever Street" are as disturbing as its opening line: "Even the Graphic reporter couldn't look into the room again."
Bryce Walton (1918–1988) wrote dozens of short stories for science fiction and mystery magazines over his long career. His pseudonyms included Paul Franklin and Kenneth O'Hara. "Fever Street" was reprinted in Tough Stories Magazine #3 (March 1956), a handmade digest magazine of which little is detailed online.