The fourth story from Justice Amazing Detective Mysteries #3, October 1955: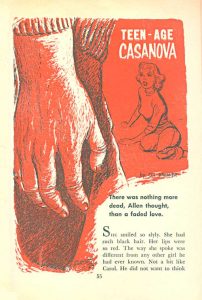 Misperceptions abound in Gil Brewer's "Teen-Age Casanova." Carol loves Allen, and Allen used to love her back—until he fell hard for Binnie. Now he's as gaga over Binnie, as Carol is over him. He makes it clear to Carol that he's done with her—again and again. Yet she persists. In fact, Carol's indefatigable—unbelievably so. What's a teenage casanova to do? Allen cobbles together a reverse stalker murder plan that bites back.
Gil Brewer (1922–1983) was a major paperback original writer in the 1950s. His short stories sold to all the digest magazines of the day, most notably Manhunt, The Saint, Pursuit, Hunted, and the short-lived Accused. Bill Pronzini wrote a chapter about him for The Big Book of Noir, citing his novels The Red Scarf and Nude on Thin Ice as two of his best. Hard Case Crime and Stark House Press have reprinted over a dozen of his novels, keeping the works of one of the great 50s and 60s noir writers in print for today's readers.