The fifth story from Justice Amazing Detective Mysteries #3, October 1955: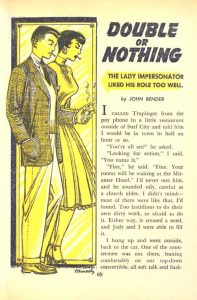 The Trent twins use their identical appearances to be in two places at once. A perfect alibi for contract killers. But the odd man of the pair prefers his identity as Jody and puts the trigger man in double jeopardy.
John Bender wrote mystery and detective yarns with an occasional western or sports story for the pulps beginning in 1940 and ending in 1956. "Double or Nothing" was his second yarn for Justice, and his before to his final story, "Homecoming," for Redbook in Nov.1956.