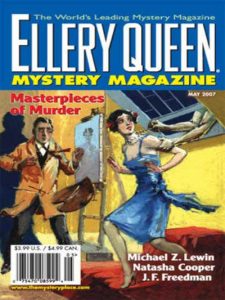 The sixth (and final) pastiche in The Misadventures of Ellery Queen, edited by Josh Pachter and Dale C. Andrews, "The Book Case" by Dale C. Andrews and Kurt Sercu, is a highlight of the anthology. It's long enough to unfold in three parts, but so well constructed and delivered I couldn't help wishing there were more. The story first appeared in EQMM's Department of First Stories in May 2007 and garnered second place in that year's Readers' Choice Awards.
An older Ellery Queen is drawn out of retirement by Detective Harry Burke, whom he met in the novel Face to Face in 1967. Dr. Jason Tenumbra and his partner Dr. Quinn Djuna are both found dead within a few miles and hours of each other. Burke's partner quickly assesses the evidence and concludes Djuna murdered Tenumbra and then took his own life. Burke isn't as certain. Tenumbra's collection of first editions line the bookcase behind his desk. Why were all the books written by Ellery Queen pulled from the self and dumped on the floor of the murder scene? Thankfully, when Ellery Queen arrives and allows all of the clues to steep, his conclusion unerringly points to one of three women, each with a powerful motive to wish the lecherous Tenumbra was dead.
EQMM cover image from Galactic Central.
More to come on April 6th . . .