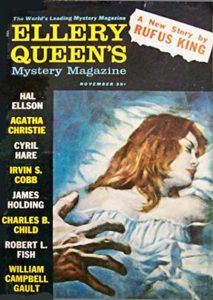 The third section of Josh Pachter and Dale C. Andrews' anthology, The Misadventures of Ellery Queen, is Potpourri—stories inspired by Queen. First up is "The Norwegian Apple Mystery" by James Holding, originally from EQMM Nov. 1960.
Two mystery-writer partners, vacationing on a cruise ship, are intrigued by the death of one of their fellow passengers, who choked to death on an apple while reading in bed, alone. The event sparks their collective curiosity, and once they begin speculating that it was not an accident, they soon find themselves creating a plausible plot for murder. A highly entertaining lesson in how to create a murder mystery.
EQMM base image from Galactic Central.
This review continues on April 22nd . . .