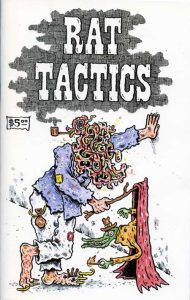 "Each page of this zine was created in under four hours during the monthly Dune Comics Night at Cafe Racer in Seattle…" Nov. 2012 thru Oct. 2017
The self-imposed timeframe give these single-page comix spontaneity. Their diversity of subject are likely the result of the five-year span of the sessions, I suspect influenced by cartoonist Max Clotfelter's mood from his preceding daytime dramas. The styles here are also diverse, from intense crosshatching to more fluid outlined, twisting shapes—but all within the Clotfelter universe.
If you enjoy snake meat, Rat Tactics is a treasure trove of rough, dark humor. Several of the comix inside had me laughing out loud.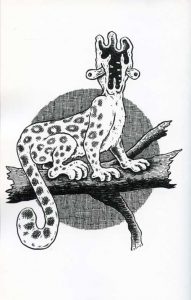 Rat Tactics smt-077 March 2018
Comix by Max Clotfelter
60 pages, 5.5" x 8.5"
$5.00 plus add a few bucks for postage
Snake Meat website