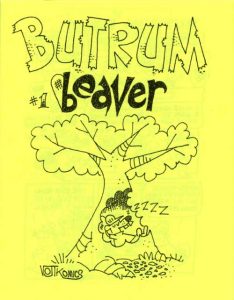 Yesterday's mail brought a new mini comic, a classic 8-page style mini comic, from TDE contributor Bob Vojtko. It's filled with single-page comics and gag cartoons featuring Butrum Beaver who's just turned 50. He's feeling his age and the corporate overloads at the Lumber Yard where he works aren't helping.
Bob also has four new cartoons in The Digest Enthusiast book eight, due out later this month.
Butrum Beaver #1 can be yours for the bargain price of just $1, postage paid. Contact Bob through his page on Facebook. And be sure to ask about his other mini comics like Fake Comics and Bent Lemons.