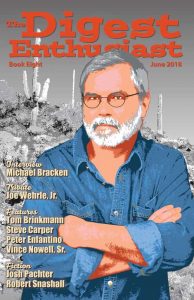 The eighth edition of The Digest Enthusiast is now available in print and digital copies. I haven't updated LarquePress.com yet, but should get the full description and cover images posted later today or tomorrow. Michael Bracken, who gets the cover spot this time, included us in his post today on the SleuthSayers blog—thank you!
If you read digest magazines with any regularity it would be hard to miss something by Michael. Seems as if he's everywhere these days. Good thing, his stories are terrific. His interview in TDE8 is loaded with background on his career, writing tips, and comments about several of his recently published stories. As always, it's illustrated with lots of cover images of past and present digests.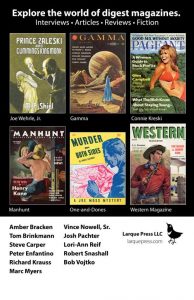 TDE8 is available in print from amazon and select booksellers like Mike Chomko, DreamHaven, and Bud's Art Books. If you prefer digital, it's available for Kindle and from Magzter.