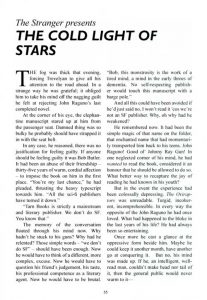 Worlds of StrangeneSS No. 2 review part 5 of 8:
The Stranger (Nigel Taylor) presents "The Cold Light of Stars," in which a publishing agent must regrettably pass on the final manuscript of the legendary author of sprawling space epics and notable science fiction. The problem is, despite the author's prestigious name, The Oviraptors, is unreadable. The agent commiserates at the home of his longtime friend, Bob Butler, who submitted the thing after everyone else in the business had rejected it. For the better part of the evening they reminisce over whiskies, until a plan for what to do with the tome emerges.
The discussion of the author's career and the two friend's fond memories of his work is warm and engaging. When Bob snatches a old science fiction digest from a shelf it triggers a memory of a fascinating story, recounted in satisfying detail, and brings the anguish of their dilemma home.
This review continues on June 5 . . .