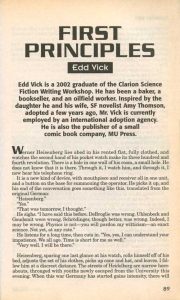 Below are Edd Vick's comments on critique, from the interview conducted by D. Blake Werts, for The Digest Enthusiast book six:
"First, the more I critique other people's work, the better I'm going to get at revising my own work. There are three levels of looking at a story. At the highest is to see it as a whole: is the idea interesting? Are the characters well chosen? Does the plot make sense? Is there a compelling theme? The middle level considers each scene: does some character change in some vital way from the beginning to the end of the scene? What is the emotional turn? How is tension ratcheted up or released? At the root level there are the individual paragraphs: is the language suited to the story? If alliteration or other clever manipulations of words are used, are they well-used? Sentence fragments? If so, appropriately used? A masterpiece is going to excel at all three levels. When I'm critiquing, I have to pay some attention to all three levels of storytelling, just as I have to when I'm writing.
"Second, critiquing is a give-and-take economy. If I don't care enough to do a good job reviewing someone else's story, why would they put themselves out to critique mine? Plus, I just don't want to half-ass it; the world needs more good fiction.
"And last, giving critiques is a way of paying it forward. Writers like Joe Lansdale and Ardath Mayhar corresponded with me when I was a beginning writer, giving me useful advice. I've been going to science fiction conventions for decades where I can talk to great authors or attend informative panel discussions. When I critique at a con or when I appear on panels, it's to help the next generation of writers."