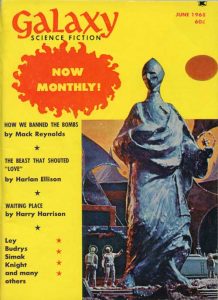 From International Science Fiction No. 2 (June 1968):
The second issue of ISF opens with an editorial, "The Balance of Ideas," by Lester del Rey, that illustrates the importance of ideas from a global perspective (expressed in tongues other than English) and therefore ISF's importance as an access point.
Public opinion on the Vietnam War was hot and passionate in 1968. A two-page ad with a list of science fiction luminaries appeared on opposing pages of this edition; those supporting the war on one side and those against it on the other. The same ad broke in the June 1968 issue of Galaxy where it was followed by an editorial by Frederik Pohl, who wasn't happy about either side. In ISF, the ad ran without further comment.