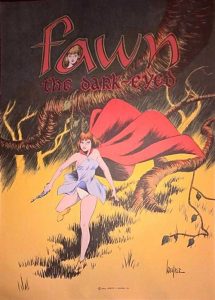 In 1965, Joe Wehrle, Jr. launched Fawn the Dark-Eyed. Inspired by the heyday of newspaper comic strips like Flash Gordon and Modesty Blaise, the publication presented Fawn's adventures in Sunday-sized comic strip pages. Unfortunately, this early version of Fawn only lasted two issues, with the second edition published in February 1966.
A third issue was planned, and Joe published a poster of Fawn in 1967 to bridge the gap between issues. All three items are relatively hard to find, but the poster is likely the most uncommon. Fortunately, a small stock of the original print run has been uncovered and is now available via eBay.
The second iteration of Fawn appeared in 1972, as a blonde, in the four-page comic adaptation of Joe's short story "The Bandemar" in Sense of Wonder No. 12. The story and comic are slated to appear in The Digest Enthusiast book nine in Jan. 2019.
Fawn's longest run appeared in 1974, in a second series of Sunday-sized comic strips in the Menomonee Falls Gazette No. 142–161, 163–171, 173–176, 178, 179, 181, 183 and 188.