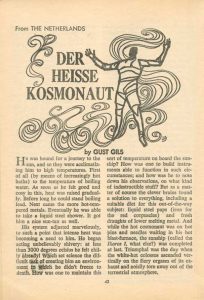 From International Science Fiction No. 2 (June 1968):
Perhaps a last minute filler, absent from the contents page, "Der Heisse Kosmonaut" by Gust Gils, of The Netherlands, is a two-page romp about an astronaut conditioned 
to tolerate the heat of the Sun.
Eventually he was able to take a liquid steel shower.
The Kosmonaut completes his mission to land on the Sun, but the heat goes to his head and he refuses to conduct any research, let alone return to Earth.
Gust Gils (1924–2002) was a poet, artist and writer. He was one of the founders of the avant-garde magazine Gard Sivik in 1955. "Der Heisse Kosmonaut" is the only story I found by him in the FictionMags Index.