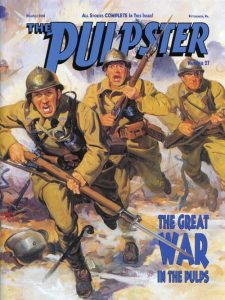 Bookseller Mike Chomko is a major supporter of the pulp and digest magazine community. He serves on the PulpFest convention committee and publishes The Pulpster magazine for that annual show in Pittsburgh.
Contents
William Lampkin: From the Editor
Contributors
Michael Chomko: From the Publisher
William Lampkin "Fatty's Friend" (Rosco "Fatty" Arbuckle)
Tom Krabacher "Mr. Hoffman's Wartime 'Adventure'" (Arthur Hoffman)
Arthur Sullivant Hoffman "That Earlier American Legion"
George Evans & Michael Chomko "With 'Wings' I Soared"
Philip José Farmer "A Fimbulwinter Introduction"
Joe R. Lansdale "The Man with the Electric Brain"
Irene Cumming Kleeberg "A Peek Inside Popular Publications"
David W. Smith "The Original Suicide Squad"
Tony Davis: Final Chapters
Download catalogs from the Mike Chomko Books website
The Pulpster No. 27
Editor: William Lampkin
Assistant Editor: Peter Chomko
Publisher: Mike Chomko
8.5" x 11" 48 pages
A few copies of the The Pulpster are still available within the U.S.:
No. 26 and 27 $13.00 each postage-paid or order both for $24.00 postage-paid
Email Mike Chomko for further ordering instructions.