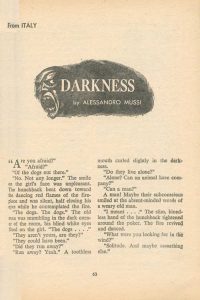 From International Science Fiction No. 2 (June 1968):
From Italy, Alessandro Mussi brings us "Darkness." A young girl falls in with a hunchback and a blind man, who often speak in questions over the story's three pages. She'd best stay with her new friends, there are too many questions about her old ones. A bit too vague to satisfy this reader.
Alessandro Mussi (1945– 2008) wrote half a dozen stories and one novel in the 1960s.