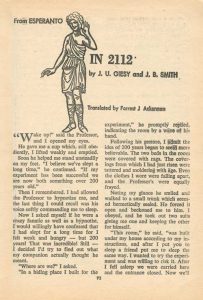 From International Science Fiction No. 2 (June 1968):
"In 2112" by Americans, J.U. Giesy and J.B. Smith, was translated from Esperanto by Forrest J. Ackerman. A professor sends his colleague 200 years into the future through some sort of hypnotic experiment. The traveler finds his true love and what seems to be the point of the story—Esperanto is now the dominant worldwide language. Sadly, our hero wakes up ten minutes later, decades before his soul mate takes her first breath.
John Ulrich Giesy (1877–1947) and Junius Bailey Smith (1883–1945) were the creators of Semi Dual (aka Prince Abduel Omar) an astrologer, mystic, telepathist and psychologist. Sometimes credited as the first occult detective, Dual's adventures appeared in early pulp magazines like Cavalier, All-Story Weekly, and Argosy for nearly 25 years. Altus Press is currently reprinting the Semi Dual stories in a series of new trade paperbacks.