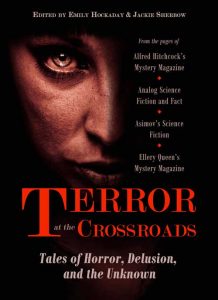 A new horror anthology under the Dell Magazines imprint, Eris Press, titled Terror at the Crossroads: Tales of Horror, Delusion, and the Unknown, edited by Emily Hockaday and Jackie Sherbow and taken from the pages of Alfred Hitchcock's Mystery Magazine, Analog Science Fiction and Fact, Asimov's Science Fiction Magazine, and Ellery Queen's Mystery Magazine, is now available.
The collection features stories from Kit Reed, David Brin, Tara Laskowski, Alec Nevala-Lee, Will McIntosh, Louis Bayard, Zandra Renwick, Chris Beckett, Barbara Nadel, Rachel L. Bowden, Stephen Ross, Paddy Kelly, Jason Half, Kurt Bachard, O.A. Tynan, Seth Frost, Kathy Lynn Emerson, Teresa Solana, A.J. Wright, Josh Pachter, and Megan Arkenberg.
The anthology is currently available on Amazon and will soon be available via other digital platforms.
Eris Press will be holding a digital launch for the anthology on Wednesday, October 31: a day-long event featuring book giveaways, twenty-minute Twitter AMAs with authors including Alec Nevala-Lee, Chris Beckett, and Josh Pachter, video readings, Q&As, costumed author photos, and more. To follow the event, stay up to date with @ErisPress.
This collection brings readers demonic encounters, the apocalypse and post-apocalypse, ghostly apparitions, mad scientists, demented artists, monsters, and plenty of bizarre and frightening experiences that will stay with you well beyond its pages. Join @ErisPress this Halloween for their digital launch!