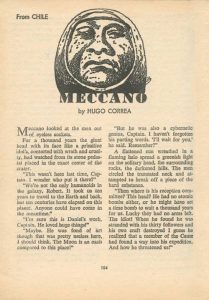 From International Science Fiction No. 2 (June 1968):
From Chile, "Meccano" by Hugo Correa is about a robot, a gargantuan guardian, tall as an eighty-story skyscraper, that protects the precious ore on a mysterious planet from those who would mine it; like the Earth crew filling the holds of their spacecraft as the story opens.
Hugo Correa (1926–2008) was a journalist and a pivotal figure in Latin American science fiction. A few of his stories have been translated into English: "The Last Element" Fantasy and Science Fiction (April 1962); "Alter Ego" F&SF (July 1967); and "When Pilate Said No" Comos Latinos: An Anthology of Science Fiction from Latin America and Spain (Wesleyan University Press 2003).
Editors Andrea L. Bell and Yolanda Molina-Gavilán wrote in their introduction to Comos Latinos:
"Thus Latin America SF entered its first golden age, a period generally thought to have run for about fifteen years starting in 1959, the year when Chile's Hugo Correa published his modern classics The Superior Ones (Los altísimos) and Someone Dwells within the Wind (Alguien mora en el viento)."