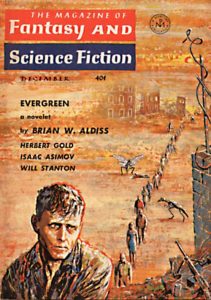 The fifth and final episode of Brian Aldiss' Hothouse saga appeared in Fantasy and Science Fiction (Dec. 1961).
Contents
Claude Veillot "The First Days of May" Translated from the French by Damon Knight ("Les Premiers Jours de Mai", Fiction May '60).
Herbert Gold "The Mirror and Mr. Sneeves" Story #3, ed. Whit & Hallie Burnett, A.A. Wyn 1953
Anne Walker "The Oversight of Dirty-Jets Ryan"
Will Stanton "You Are with It!"
John Anthony West "The Fiesta at Managuay" Call Out the Malicia, Heinemann 1961
Grendel Briarton "Through Time and Space with Ferdinand Feghoot: XLVI"
Isaac Asimov's Science: The Trojan Hearse
Hal Draper "Ms Fnd in a Lbry or The Day Civilization Collapsed"
Brian W. Aldiss "Evergreen" (Hothouse No. 5)
Index to Volume 21
Cover by Ed Emshwiller
Contents from Galactic Central
An excerpt from Joe Wehrle, Jr.'s review of the Hothouse series, from The Digest Enthusiast book six:
[In "Evergreen"] Yattmur and Gren have a child. Gren has become more and more distant and inhuman under the influence of the morel. The morel is soon to sporulate, and it wants to transfer itself to the young, strong child, which can carry it back to the sunlit world for seeding.