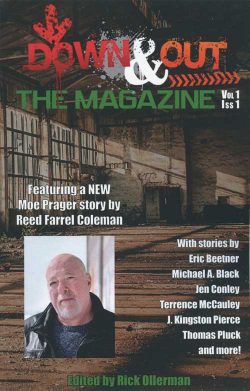 Excerpt from the review of Down & Out: The Magazine No. 1 in The Digest Enthusiast No. 7.
Michael A. Black is the author of two series: Leal and Hart, a pair of police detectives, and Ron Shade, a private investigator. His story, "Dress Blues," stars PI Shade who tries to pick up the trail of a troubled youth, gone missing from military school. Black's first-hand knowledge of law enforcement brings his writing street cred, devoid of frills, as in this passage from an interview with a Spanish Tigers' gangbanger:

"Listen, asshole, we both know you habla, so cut the shit. I don't like it when someone tries to run a game on me." George's big hand moved down to Luis's throat. "Now answer the man's question. Comprende?"
"Dress Blues" is a tight, easy-to-read PI yarn that traces Shade's steady progress to a nasty—if not entirely unexpected—wrap-up.