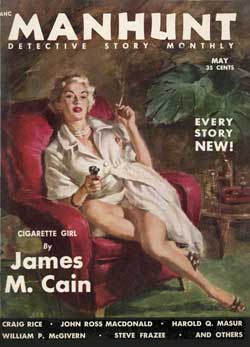 Manhunt Detective Story Monthly Vol. 1 No. 5 May 1953
Contents
John Ross Macdonald "The Guilty Ones" (Lew Archer)
Jonathan Craig "Services Rendered"
Vincent H. Gaddis: Crime Cavalcade
Robert Patrick Wilmot "Stakeout"
Steve Frazee "Graveyard Shift"
Evan Hunter "Now Die in It" (Matt Cordell)
Dan Sontup's Portrait of a Killer: Warren Lincoln
James M. Cain "Cigarette Girl"
Michael Fessier "Nice Bunch of Guys"
William P. McGivern "Old Willie"
Harold Q. Masur "Build Another Coffin" (Scott Jordan)
Manhunt's Movie of the Month: I Confess
Craig Rice "Don't Go Near" (John J. Malone)
Grant Colby "Assault"
Mugged and Printed: James M. Cain, Craig Rice, Steve Frazee, and William P. McGivern
Every story opens with an illustration, mostly in two colors. Unfortunately, none are uncredited.
Flying Eagle Publications, Inc,
Editor: John McCloud
Managing Editor: E.A. Tulman
Art Director: Chas. W. Adams
Business Manager: R.E. Decker
144 pages, 35¢