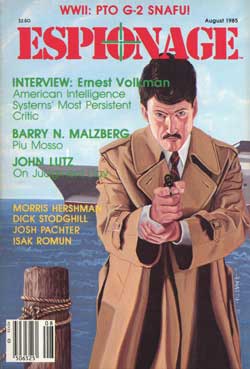 Espionage Magazine Vol. 1 No. 4 August 1985
Contents
About People (Contributors)
About Books
About Films
About Other Things . . .
Letters to the Editor
Jackie Lewis: Publisher's Page
Roger A. Beaumont "The Flawed Soothayer—Willoughby: General MacArthur's G-2" (article)
Isak Romun "Dinner in the Upper Latitudes" art by Aries
Josh Pachter "Message from Lowanda" art by Robert Spike
Ron Goulart "Skyrocket Steel Conquers the Universe" art unsigned
Morris Hershman "Proof Negative" art unsigned
John Lutz "On Judgement Day" art by Aries
Mel Waldman "Rabbi of Berlin" art by Mike Ramesburg
Interview: Ernest Volkman
Barry N. Malzberg "Piu Mosso" art by Bruce Baker
Dick Stodghill "Knights of the Golden Circle" art by Robert Spike
Jane Beckman "A Proposition He Could Not Refuse" art by Aries
Richard Ashby "Night of the Durga" part one, art by Rob Richards
Joe Lewis "Spying Through Time" (article)
Richard Walton's On File: The Sweet Toothed Spy (article)
Games Pages
Classifieds
Did You Know . . .
Editor/Publisher: Jackie Lewis
Associate Publisher: Jeri Winston
Editorial Assistant: Mike Christenberry
Production Manager: Michael Mills
Cover: Richard Martin
Cartoons: Halm
Published bi-monthly by Leo 11 Publications
164 pages, $2.50
Writer Josh Pachter recalls Espionage Magazine in "I Spy" in The Digest Enthusiast No. 7.