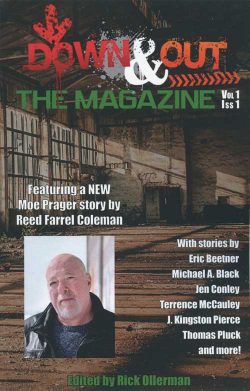 In late 2017, I asked Rick Ollerman, editor of Down & Out: The Magazine, what he saw happening for the digest in the new year. His reply is excerpted from The Digest Enthusiast No. 7:
"I would hope to see it go from being an upstart, unheard of periodical, to something people have taken notice of, and is regularly reviewed by the time 2018 gets its legs under it.
"In short, I hope we're beginning to make a mark, and I hope we're beginning to matter, that we've made a little place for ourselves on the map. I hope that we're talked about, maybe that we're looking at something bigger than ourselves, like some type of reader's award or something like that, although I think I'm probably getting a bit ahead of myself."
Indeed, both Eric Beetner's "Out of Business" and Reed Farrel Coleman's "Breakage" from D&O: The Magazine No. 1 were nominated for Shamus Awards in 2018 for Best P.I. Short Stories.
Hat tip to Rudolf Schütz, who runs the Rubber Axe Webzine, for his recent review of The Digest Enthusiast No. 1. "What a treasure of digest-related information!"