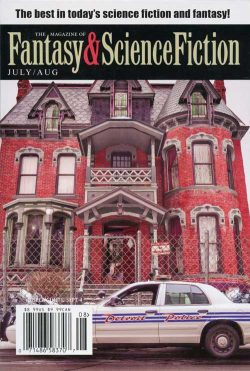 Review columns from Fantasy & Science Fiction Jul/Aug 2017:
Two book review columns, run back-to-back in this issue, to provide plenty of titles for readers' consideration. Charles de Lint's "Books to Look For" covers Tillie Madison vs Reality by P.L. Winn; Nathan Van Coops' time travel series In Times Like These, The Chronothon, and The Day After Never; Goblin Market by Christina Rossetti & Omar Rayyan; Silence Fallen by Patricia Briggs; Gods & Goddesses: The Fantasy Illustration Library Volume Two edited by Malcolm R. Phifer and Michael C. Phifer; and Creaking Staircases: Gothic Tales of Supernatural Suspense by James E. Coplin.
Michelle West's "Musing on Books" reviews Thick as Thieves by Megan Whalen Turner, In Calabria by Peter S. Beagle, and A Face Like Glass by Frances Hardinge.
Lint begins each of his reviews with a personal story, used as a springboard into the book at hand. West begins her reviews with a little background on the author, and to some degree, her own experiences of their work. I enjoyed how both Lint and West approach their entry to their reviews, but your mileage may vary.