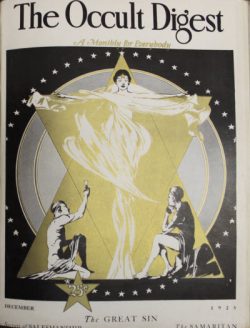 Excerpt from Tom Brinkmann's article on The Occult Digest from The Digest Enthusiast book seven:
"The Occult Digest Stands for 'ONE LAW – ONE LIFE – ONE TRUTH – Eternal Progress Through Successive Embodiments'" "The 'Occult' You Will Quickly 'Digest' – Read with Zeal – Studied With Zest" The Occult Digest's first issue was dated January 1925 and stated on the contents page, "Volume 1 – No. 1 – Old Serial No. Vol. IV No.1 formerly 'Psychic Power.'" There were ten issues of The Occult Digest published in 1925, all of which had interesting artwork on the covers and illustrations inside. The first issue was edited by Effa Danelson and the Managing Editor, Ross K. New, and, it had a cover illustration by Louise Huelster; the other covers were by Paul Lehman (1889–1945) who did six covers and S. Mahrea Cramer (1896–1991) who did three covers; they both did inside illustra- tions as well. The three by Cramer were beautiful illustrations, the best of the ten covers in my opinion.
The Occult Digest Dec. 1925 cover image from Galactic Central.
A regular contributor to TDE, Tom Brinkmann writes about unusual, off-the-beaten-path magazines, digests, and tabloids. His Bad Mags website was active from June 2004–July 2017. His books, Bad Mags Volume 1 (2008) and Volume 2 (2009) are available from secondary outlets, including amazon.com