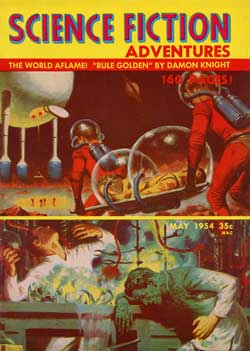 The ninth and final issue of the digest.
Science Fiction Adventures Vol. 2 No. 3 May 1954
Contents
Harry Harrison's Editorial: The Science in Science Fiction
Damon Knight "Rule Golden" art by Alex Ebel
SFA Notes
Lee J. Fox "Pinnacle"
Fanvets in '54
K. MacLean "Collision Orbit" art by Art Sussman
L. Jerome Stanton's Frankenstein, or Friday? art by Milton Berwin
R.H. Remington "Amoeba-Hunt" art by Mendenhall
Damon Knight's The Dissecting Table (book reviews)
Cato's Cartoon
Judith Merril "Rain Check" art by Roy G. Krenkel
The Answer to the Oldest S-F Argument
Charles Lee Riddle's Fanmag
Roy H. Millenson's The 183rd Congress
Crime in the Year 50 B.C.
The Chart Room (letters)
Editor: Harry Harrison
Assoc. Editor: M. Machlin, John Vincent
Book Editor: Damon Knight
Art Director: Milton Berwin
Cover: Clarence Doore
160 pages, 35¢
Read Vince Nowell, Sr.'s article "When Things Go Wrong—The Lester del Rey/John Raymond Fiasco" in The Digest Enthusiast book seven.