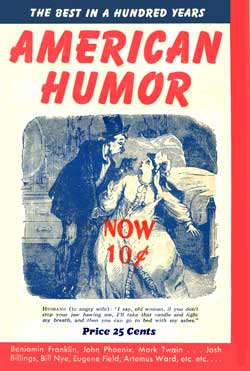 Excerpt from Steve Carper's series "One-and-Dones" that appears in The Digest Enthusiast No. 7–9:
"Jacob R. Brussel was a New York bookstore owner noted for carrying erotica, connected with the small world of taboo-breaking books and writers. He published and distributed an early (and then completely illegal) edition of Tropic of Cancer and also the much less noted Oragenitalism. An Encyclopaedic Outline of Oral Technique in Genital Excitation.
". . . a second 1945 release, One Hundred Years of American Humor, edited by J. Brussel, whose existence knocks an otherwise perfect one-and-done example off the list. Both covers of the anthology raise questions. The front cover says "Price 25 cents"yet the "Now 10¢." stamp is clearly not an after-market artifact. Could this rarity have two printings?"
Now Available from McFarland: Steve Carper's Robots in American Popular Culture. And be sure to check out the companion website robotsinamericanpopularculture.com.