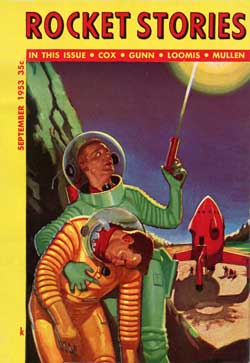 Rocket Stoires Vol. 1 No. 3 Sept. 1953
Harry Harrison takes over when Lester del Rey tells John Raymond he's through.
Contents
Wade Kaempfert: An Editorial on Men Who Dared
Irving E. Cox "Apprentice to the Lamp" art by Alex Ebel
James E. Gunn "Killer" art by Kelly Freas
Chester Cohen "Flower Girl" art by Joseph Eberle
Stanley Mullen "The Robot Moon" art by H.R. Smith
Alger Rome "Underestimation" art by Joseph Eberle
Kirby Brooks "Technical Difficulty"
Noel Loomis "Day's Work" art by H.R. Smith
The World S-F Convention
Kenneth Wright: On the Shelves
Felix Boyd (Harry Harrison*) "An Artist's Life" art by Milton Berwin
Publisher: John Raymond
Editor: Wade Kaempfert (Harry Harrison*)
Assoc. Editor: John Vincent, E. Lynn
Art Director: Milton Berwin
Cover: Civillitti
160 pages, 35¢
*Page 489, Science Fiction, Fantasy, and Weird Fiction Magazines by Marshall B. Tymn and Mike Ashley, 1985 Greenwood Press
Read Vince Nowell, Sr.'s article "When Things Go Wrong—The Lester del Rey/John Raymond Fiasco" in The Digest Enthusiast book seven.