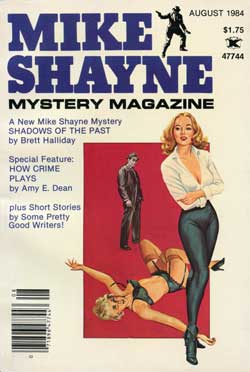 Excerpt from Michael Bracken's interview in The Digest Enthusiast No. 8, June 2018:
TDE: Your secret agent character, Christian Gunn, appeared in Mike Shayne (Aug. 1984) and again in Espionage (Feb. 1985). Was he ever used again?
MB: The fall of the Berlin Wall and the demise of both Espionage and Mike Shayne ended Gunn's career.

Mike Shayne Mystery Magazine Vol. 48 No. 8 Aug. 1984
Contents
Brett Halliday "Shadows of the Past"
Amy E. Dean: How Crime Plays
Peter A. Sellers "Loss of a Faculty"
Buzz Dixon "Spiders"
Michael Bracken "With Extreme Prejudice"
Ray Bradley "The Bus Bandits"
Arthur Moore "Bird Bank Bingo"
Lane Marsh "First Security"
Mel Washburn "To Forgive is Human"
Richard E. Givan "The Curious Case of the Dead-Drunk Driver"
Ardath Mayhar "Knit Lady"
Vicki Shaull Carleton "The Prison Letters"
Mike's Mail
Best by Mail (classified ads)
Publishers: Edward & Anita Goldstein
Editor: Charles E. Fritch
Art Director: Robin Schaffer
Founder: Lou Margulies
5.25" x 7.75" 130 pages $1.75