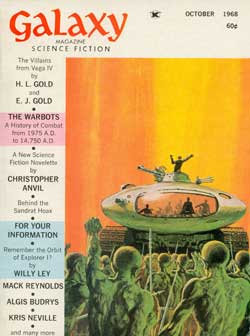 Excerpt from "The Creative Works of Joe Wehrle, Jr." from The Digest Enthusiast No. 8, June 2018. (Quotes gleened from Joe's interviews or correspondence.)
"My first professional work involved doing spot illustrations for Galaxy and If digest science fiction magazines," Joe said in 2010. "I had done comics and other stuff for fanzines, and I sent some clips to Frederik Pohl around 1967, asking if I could get some work from his magazines. He replied that he liked what I had sent, but could I show him something a little more subdued? So I worked up a small folio of illustrations that I felt were more in keeping with the style of those two magazines. Fred said 'OK!' and directed his staff to begin sending me galley proofs of stories slated for upcoming issues.
"The galleys were arriving regularly in the mail. I was really on my way! Then Galaxy Publications was sold, and the new editors sent me nothing more."
Joe's artwork appears in:
Galaxy Jun–Aug, & Oct. 1968
If May–Aug. 1968
Joe's bibliography appears on the Larque Press website.