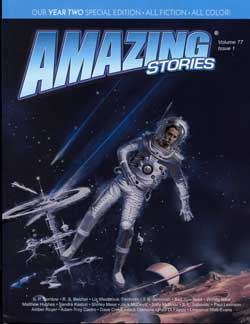 AppleTV+ (AppleTV Plus) new streaming service is planned for a November launch and will include a reboot of Steven Spielberg's Amazing Stories series.
The Amazing Stories Selects program is set to roll out soon—individually packaged longer length works than those that appear in the magazine.
Congrats to Sandra Kasturi for her Rhysling Poetry award nomination for her poem from a 2018 edition of Amazing Stories—and to the magazine for their 2019 Nefty Award for Best Magazine.
Amazing Stories Fall 2019 All Color Issue!
Contents
Ira Nayman: From the Editor's Desk: Pratical Advice for Impratical Situations
Vincent Di Fate: Amazing Cover Artist
S.P. Somtow "Another Avatar" art by Jon Eno
R.S. Belcher "Home" art by Tom Miller
Liz Westbrook-Trenholm "Blindside" art by Matt Taggart
T.B. Jeremiah "Robots at Dawn!" art by Anton Oxenuk
Bud Sparhawk "Dog Tales" art by Igor Avdeev
Wendy Nikel "Stone and Starlight" art by Phil Foglio & Cheyenne Wright
Matthew Hughes "Stopover at Meech's World" art by Chukwudi Nwaefulu
Sandra Kasturi "In the Moon Garden" art by Amanda Makepeace
Shirley Meier "Buyer Beware" art by Roberto Armas
Jack McDevitt "Breaking News" art by Renan Boe
Sally McBride "The Doll Ladies" art by Melisa Des Rosiers
S.L. Saboviec "The Boy With the Matalliderm Arm" art by Lianna Ribeiro
Paul Levinson "The P&A" art by Richard Mandrachio
Amber Royer "When Krom-ish Eyes are Smiling" art by Brad Foster
Adam-Troy Castro "Genesis for Dyslexics" art by MD Jackson
Dave Creek "The Typhoon Rider" art by Olivia Beelby
Poetry: Darrell Schweitzer, Roger Dutcher and Francine P. Lewis
Jack Clemons "Intruder" art by Ron Miller
Paul Di Filippo "Ancient Hearths" art by Derek Whitaker
Lawrence Watt-Evans "The Night People" art by Anthony Rhodes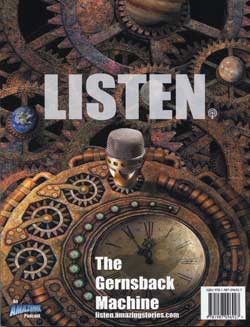 Amazing Stories Vol. 77 No. 1 (No. 618) Fall 2019
Publisher: Steve Davidson
Editor-in-Chief: Ira Nayman
Art Director: Kermit Woodall
Cover: Vincent Di Fate
Full size magazine: 8.5" x 11" 154 pages
Available at select conventions and by subscription from the Amazing Stories website
Print $19.95 Kindle $2.99