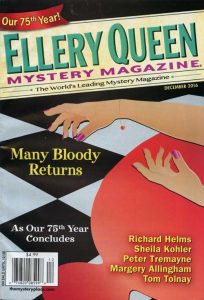 EQMM is 75 years old. An amazing publishing feat for any magazine. The December issue continues its tradition of outstanding short mystery fiction with the final 75th Anniversary edition. This issue's insightful Editorial by Janet Hutchings reviews the founding scope of the magazine and its expansive role in today's ever-challenging marketplace.
"Bloodstained Glass" by Richard Helms, art by Mark Evan Walker
From the Editor's Desk: Beyond Boundaries by Janet Hutchings
"Nothing Matters But Matter" by Sheila Kohler
The Jury Box by Steve Steinbock reviews:
The English Teacher by Yiftach R. Atir
The Kingdom by Fuminori Nakamura
I Shot the Buddha by Colin Cotterill
Mr. Campion's Fault by Mike Ripley
The Hemingway Thief by Shaun Harris
Kilt at the Highland Games by Kaitlyn Dunnett
The Goddaughter Caper by Melodie Campbell
Survivors Will Be Shot Again by Bill Crider
and special mentions of
Rhythm and Clues by Sue Ann Jaffarian
The Question of the Felonious Friend by Jeff Cohen and E.J. Copperman
A Killer's Guide to Good Works by Shelley Costa.
"The Unseen Door" by Margery Allingham
"A History of Snakes" by Tom Tolnay
"The Truth of the Moment" by E. Gabriel Flores (Dept. of First Stories)
"Catspaw" by Peter Tremayne
"Dream Wedding" by Sarah Weinman (From Our Archives)
"With Eyes Like That" by Robert S. Levinson
"Ghosts of Bunker Hill" by Paul D. Marks, art by Allen Davis
"Stranger in the Night" by Hilde Vandermeeren (Passport to Crime) translated by Josh Pachter
2016 EQMM Readers Award Ballot
Index to Volumes 147 & 148
Bill Crider's Blog Bytes returns next issue.
Final issue of the 112-page editions. Beginning in Jan/Feb 2017 EQMM went bimonthly with double-sized 192-page issues.
Ellery Queen's Mystery Magazine Vol. 148 #6, whole #903, Dec. 2016
Publisher: Peter Kanter
Editor: Janet Hutchings
Senior Assistant Editor: Jackie Sherbow
VP Design & Production: Susan Mangan
Senior AD: Victoria Green
Cover: Jill Hartley/iStockphoto.com
112 pages
$4.99 on newsstands until December 20, 2016
The Mystery Place: Ellery Queen