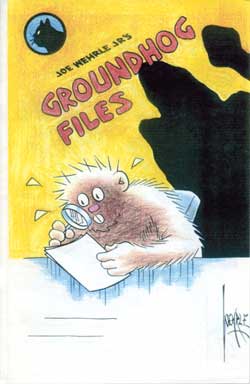 Excerpt from the tribute: "The Creative Works of Joe Wehrle, Jr." from The Digest Enthusiast No. 8, June 2018:
In 1991, Joe Wehrle, Jr. produced a mini comic loosely based on the famous Punxsutawney Groundhog, featuring a groundhog detective. "I think it was a bit too far off the beaten path for most of the local populace. Most would rather have had a coloring book," said Joe. Groundhog Files was a 24-page comic that Joe produced in a limited run. In 2015, Joe reprinted the comic at about one-half of its original digest-size.
Most of Joe's self-published works were hand-bound. Quantities were low, which makes them rare and highly collectible. If you're lucky enough to find a copy of one, I advise you to grab it. His publications were always something truly special.
Joe's bibliography appears on the Larque Press website.