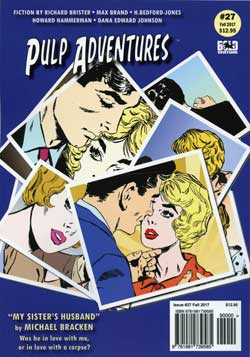 One of the stories I read to prepare for the interview with Michael Bracken that appears in The Digest Enthusiast No. 8 was "My Sister's Husband."
Although I didn't ask a question about this particular story, it's worth seeking out a copy of Pulp Adventures No. 27 to read it.
Synopsis
Tina lost touch with her sister's husband, Gerald, after Cheryl died many years ago. After a chance meeting in a restaurant, the two become reacquainted and begin dating. On the surface the relationship builds smoothly, but underneath each questions what's happening to them and their true feelings.
Pulp Adventures No. 27 Fall 2017
Contents Page
Audrey Parente: Editorial
Adam McFarland "Angels and Animals"
William Hope Hodgson "Jack Grey, Second Mate"
Dana Edward Johnson "The Green Mask"
Howard Hammerman "Not What I Ordered"
William Dudley Pelley "A Case at Law"
Max Brand "Hole-in-the-Wall Barrett"
Audrey Parente interviews Gary Bullock, Journeyman Actor
May Belleville Brown "A Repeating Romeo"
Michael Bracken "My Sister's Husband"
Richard Brister "Sneak Thief"
Raymond J. Brown "Thirty Days on the Island"
H. Bedford-Jones "Irregular Brethern"
Publisher: Rich Harvey
Editor: Audrey Parente
Cover: Norman Saunders
7" x 10" 134 pages
Print $12.95
Bold Venture Press website