April Digests, Anthologies, Zines
Alec Cizak has made all ten issues in Volume One of Pulp Modern available for free, exclusively on Magzter. The roster of writers appearing in these issues is a who's who of modern pulp fiction. Start reading now!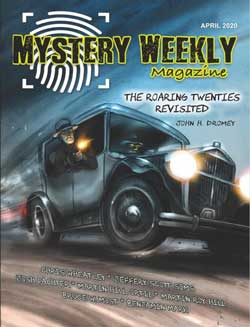 Mystery Weekly Magazine April 2020
Contents Page
John H. Dromey "The Roaring Twenties Revisited"
Chris Wheatley "One Night At Clancy's"
Jeffery Scott Sims "The Mystery Of The Egyptian Biscuit"
Josh Pachter "The Pig Is Committed"
Martin Hill Ortiz "Mixed Identities"
Martin Roy Hill "The Last Mission"
Bruce W. Most "Flashgun"
Benjamin Mark "The Case Of The Disappearing Diamonds"
Laird Long "The Purloined Pearls" (You-Solve-It)
Mystery Weekly Magazine April 2020 (No. 56)
Publisher: Chuck Carter
Editor: Kerry Carter
Cover: Robin Grenville-Evans
7.5" x 10" 82 pages
Print $6.99, Kindle $2.99
Mystery Weekly Magazine website
The Beat of Black Wings edited by Josh Pachter
It's official. The anthology of crime fiction inspired by the songs of Joni Mitchell has launched. Contributors include Donna Andrews, Abby Bardi, Michael Bracken, Carol Ann Davis, David Dean, John M. Floyd, Barb Goffman, Sherry Harris, Greg Herren, Emily Hockaday, Matthew Iden, Tara Laskowski, Edith Maxwell, Alison McMahan, Adam Meyer, Alan Orloff, Kathryn O'Sullivan, Josh Pachter, Christine Poulson, Mindy Quigley, Jackie Sherbow, Amber Sparks, Art Taylor, Ricki Thomas, Marilyn Todd, Elaine Viets, and Stacy Woodson. 362 pages. Available in paperback and digital formats from Untreedreads and other booksellers.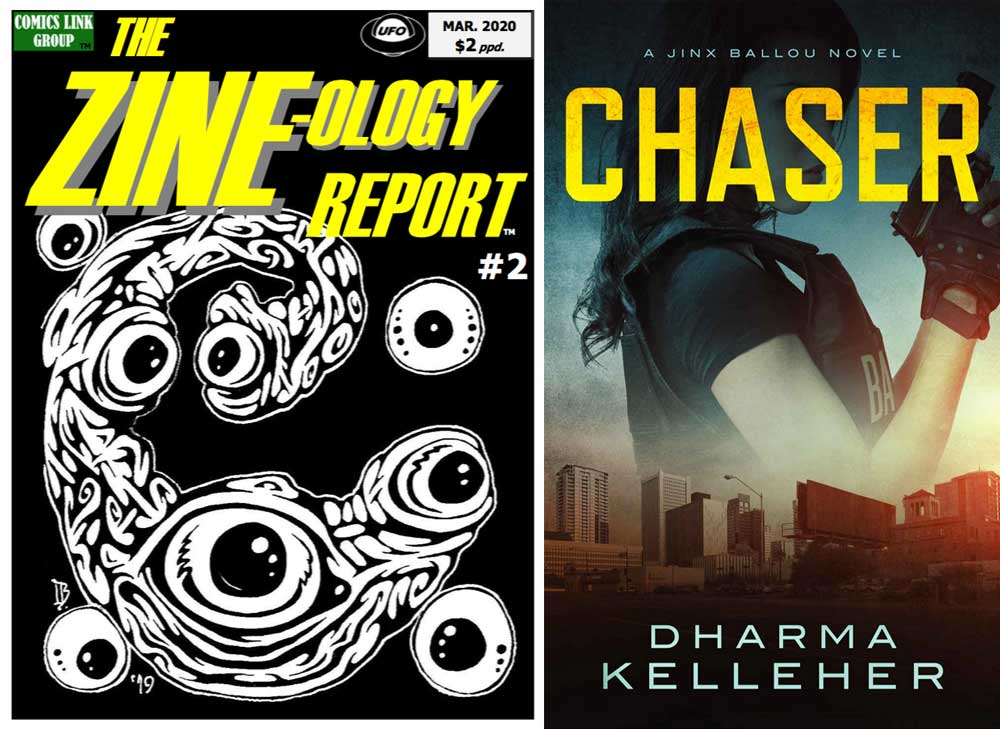 Alan Sissom released The Zineology Report No. 2 this week, a newszine with ordering details for dozens of recent zines. Send an email for ordering information.
Book Review
Rider Barnes reviews Chaser by Dharma Kelleher at Tough Crime.
Digest News, Blogs, etc.
John Floyd discusses "Rhonda and Clyde" from Black Cat Mystery Magazine at SleuthSayers.
EQMM Fiction Podcast No. 126: Cecilia Fulton "Father of the Corpse"
Jim Kelly on "The Man I Love" at Fantasy & Science Fiction.
Kenneth Wishnia on "Kickass Women of the Bible" at AHMM's Trace Evidence.
Em Liu on "The Halting Problem" at The Astounding Analog Companion.
Judy Clemens discusses mystery fiction at EQMM's Something is Going to Happen.
Gregor Hartmann on "A Solitary Crane Circles Cold Mountain" at Fantasy & Science Fiction.
Readin' and Writin'
Crime fiction writer Dana King is back blogging with the promise of writing advice at One Bite at a Time.
Progress on The Digest Enthusiast No. 12 this week included more notes on Fotocrime and the layout for my review of Guns + Tacos. Also, happily received an article each from Vince Nowell, Sr. and Ward Smith, both centered on science fiction digests.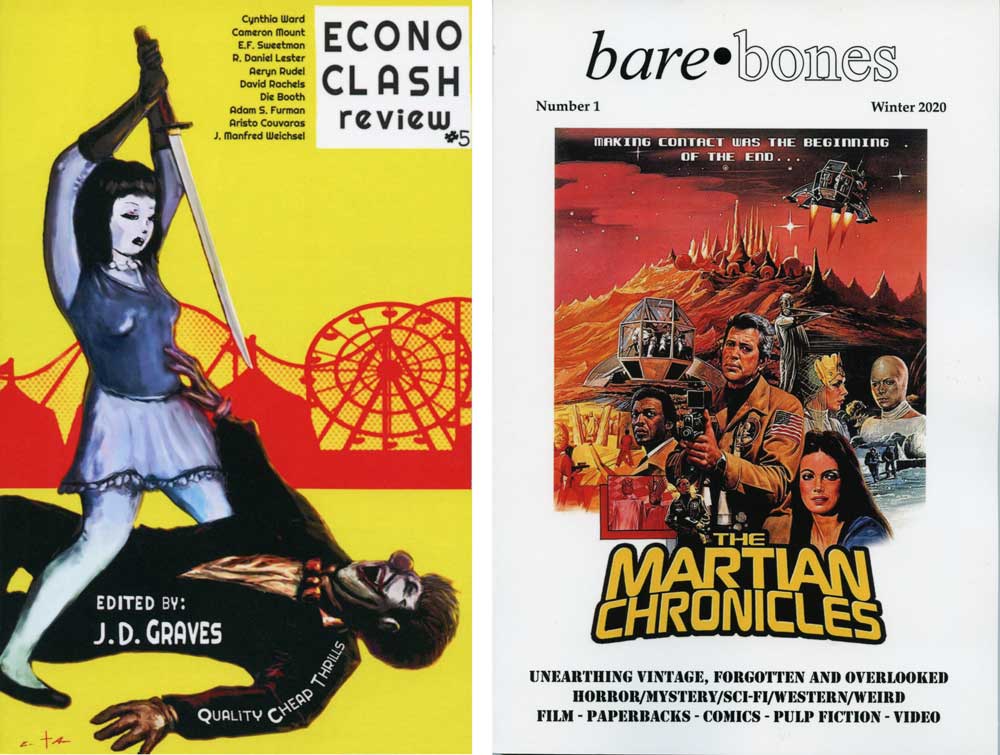 Reading included EconoClash Review No. 5, which like Switchblade and Pulp Modern continues to showcase the best of hard-wrought indie genre fiction. ECR No. 5 delivers another crusty collection of ten terse tales guaranteed to divert, debauch, and delight. Look for my full review in TDE12.
Also finished reading bare•bones No. 1, which was excellent. Like its contributors, the return of bare•bones to print offers an eclectic mix with impressive range. Even when one of its many topic isn't of primary interest to you, its presentation and depth of coverage provide an enjoyable, edifying lesson in pop culture. And yes, I'll have a full review ready for TDE12 shortly.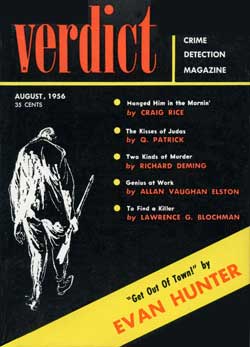 Vintage Crime Digest
Verdict Vol. 1 No. 1 August 1956
"St. John made another attempt in 1956, reviving the magazine under a slightly different title (Verdict Crime Detective Magazine), but this also suffered a short run."* Three issues.
Contents Page
Craig Rice "Hanged Him in the Mornin'" Originally "His Heart Could Break"
Evan Hunter "Get Out of Town!"
Hunt Collins "Eye-Witness"
Laurence G. Blochman "To Find a Killer"
Richard Deming "Two Kinds of Murder"
Don Stanford "Holdup!"
Samuel Blas "Vengeance is Mine"
Q. Patrick "Kisses of Judas"
Allan Vaughan Elston "Genius at Work"
David C. Cooke "Ride for a Stranger"
Samuel Elkin "The Deadly Sisters"
Verdict Crime Detective Magazine Vol. 1 No. 1 August 1956
Publisher: Michael St. John
General Manager: R.E. Decker
Editorial Director: Walter R. Schmidt
Managing Editor: William Manners
Associate Editor: N.F. King
Art Director: Charles W. Adams
Assistant AD: Gerald Adams
*Mystery, Detective, and Espionage Magazines by Michael L. Cook (Greenwood Press, 1983)