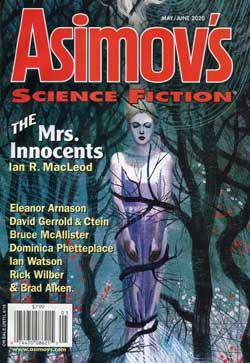 April Digest
Asimov's Science Fiction May/Jun 2020
Contents Page
Cady Coleman with Susan Alzner of Shift7 Guest Editorial: Will NASA's Next Generation Spacesuit Fit You?
Robert Silverberg's Reflections: The One that Gets You Hooked
Jane Yolen "Ode to Cassini" (verse)
James Patrick Kelly's On the Net: Two Dooms
Eleanor Arnason "Tunnels"
Alice Towey "The River"
Sandra Lindow "Darning" (verse)
Ian R. Macleod "The Mrs. Innocents"
Jenny Blackford "Feeding Time" (verse)
Brad Aiken & Rick Wilber "Ithaca"
David Gerrold & Ctein "Ronni and Rod"
Dominica Phetteplace "Digital Witness"
James Gunn "Against the Stars"
Ian Watson "Brave New World by Oscar Wilde"
Robert Borski "How an Astroarcheologist Celebrates the Fourth of July" (verse)
Evan Marcroft "Pax Mongolica"
Suzanne Palmer "Hot New Collectible" (verse)
Tegan Moore "Perfect Blue"
Ruth Berman "The Riches of the Cloud Country" (verse)
Bruce McAllister "The Voice"
R. Garcia y Robertson "Living in Wartime"
Norman Spinrad's On Books: Modern Chinese Science Fiction—Windows into China
• Invisible Planets edited and translated by Ken Liu
• Waste Tide by Chen Qiufan, translated by Ken Liu
• China Dream by Ma Jian, translated by Flora Drew
Next Issue
Erwin Strauss: SF Conventional Calendar
Asimov's Science Fiction Vol. 44 No. 5 & 6, whole No. 532 & 533, May/Jun 2020
Publisher: Peter Kanter
Editor: Sheila Williams
Managing Editor: Emily Hockaday
Editorial Assistants: Deanna McLafferty, Rae Purdom
Senior Director of Art & Production: Porter C. McKinnon
Senior Art Director: Victoria Green
Cover: Anna & Elena Balbusso
208 pages, $7.99 on newsstands until June 16, 2020
Asimov's website
Asimov's/Analog Value Pack-8
Asimov's/Analog Value Pack-16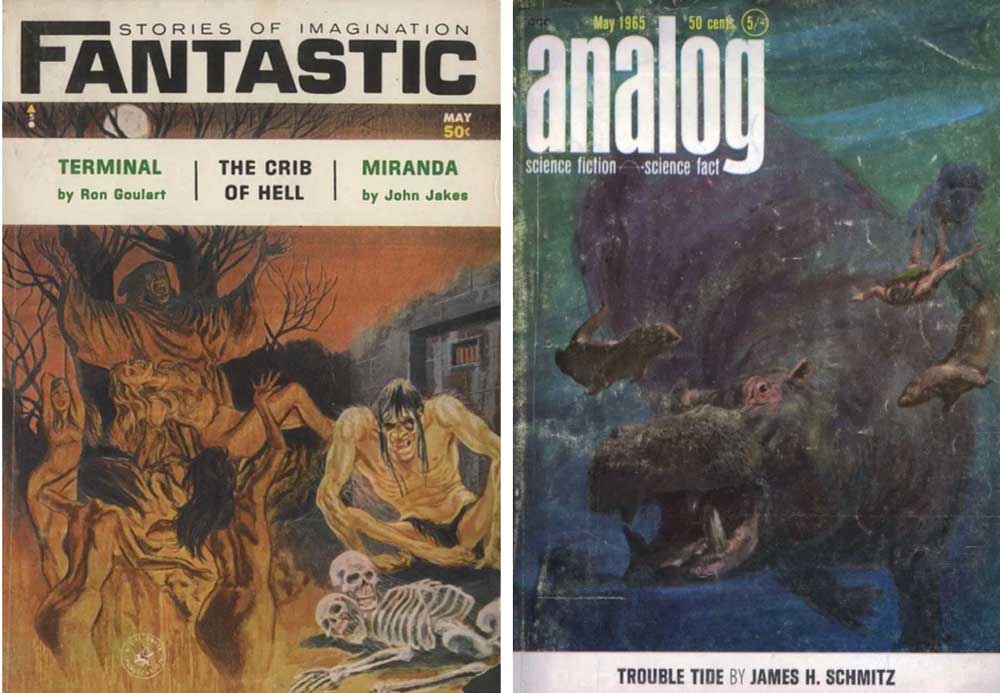 Digest Magazine Reviews
Victoria Silverwolf reviews Fantastic May 1965 at Galactic Journey.
James Reasoner reviews Commando: Codename Warlord at Rough Edges.
Gideon Marcus reviews Analog May 1965 at Galactic Journey.

Digest Magazine Blogs
The May/June issue of AHMM is previewed at Trace Evidence.
Robert Lopresti discusses his story "Shanks Saves the World" in AHMM May/Jun 2020 at Trace Evidence.
Gabino Iglesias interviews Wendy Heard at EconoClash Review.
Amanda Hollander on "A Feast of Butterflies" from F&SF Mar/Apr 2020 at Fantasy & Science Fiction.
Jim Weikart on the International Association of Crime Writers at EQMM's Something is Going to Happen.
Eleanor Arnason on "Tunnels" from Asimov's May/Jun 2020 at From Earth to the Stars.
Aimee Ogden on her story "To Persist, However Changed" from Analog May/Jun 2020 at The Astounding Analog Companion.
Nostalgia Digest Back Issue Sale
Spring cleaning unearthed a cache of 2013–2017 back issues at Nostalgia Digest HQ. Fill in your collection here (scroll down), while supplies last.
TDE Contributors' Corner
Peter Enfantino & Jack Seabrook review Warren's Sept/Nov 1971 titles at bare•bones e-zine.
Peter Enfantino reviews Marvel/Atlas Horror Comics from June 1953 at bare•bones e-zine.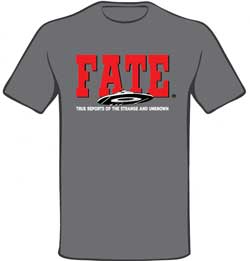 Fate Fundraiser
Support the oldest continuous running magazine of its kind: Fate Magazine. Editor and publisher Phyllis Galde has been at the helm since 2001, but at present Fate is experiencing legal action from an outside force that threatens our ability to continue. The proceeds from your purchase of a Fate t-shirt will go towards legal defense expenses to protect Fate. 
 
We are happy to work with the artists Savage Bear Studios to bring you a must have Fate design on a 100% high quality cotton t shirt. Minimum donation $25 USD. Order today. Please allow a bit more time for shipping and handling during this  time.
 
"A heartfelt thanks to all our loyal readers and subscribers for your support through the years." —Phyllis Galde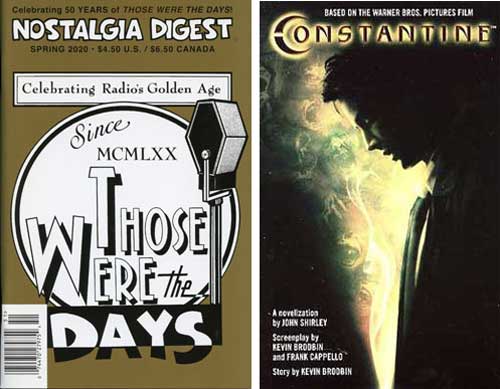 Readin' and Writin'
Finished reading the latest issue of Nostalgia Digest this week. Those Were the Days will celebrate its 50th Anniversary this year. Due to the pandemic, the special live event that had been scheduled for May 2nd, will be rescheduled. Nonetheless, this issue of Nostalgia Digest provides an interview with Chuck Schaden, who started the weekly radio show in 1970, as well as a enthralling excerpt from his memoir: Chuck Schaden's Radio Days—Adding Decades to the Golden Age of Radio (Hall Closet Press, 2019).
Other issue highlights include articles on Tina Cole of Hawaiian Eye and My Three Sons, Raymond Burr, and movie star Jean Arthur. Another satisfying edition of Nostalgia Digest. Keep 'em coming Steve Darnall!
Inspired by the special all-John Shirley issue of Weirdbook, I picked up a copy of the novelization of Constantine, also by Mr. Shirley, and read it this week. It's terrific. A beautifully written, action-packed, supernatural, adventure story.
Spent a few hours working an my article about Fotocrime for the next issue of The Digest Enthusiast, and worked in edits from Alec Cizak for the next Pulp Modern—both digests scheduled for June release.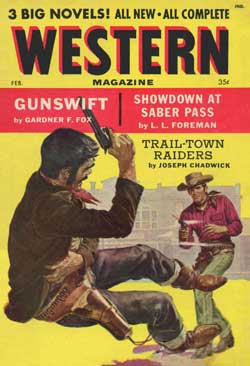 Vintage Western Digest
Western Magazine February 1958 (final issue)
L.L. Foreman "Showdown at Saber Pass"
In a double-crossing, cold-blooded game of cattle empire—a young, beautiful girl was the helpless pawn. And Lobo Turner was king of gunslingers.
Gardner F. Fox "Gunswift"
Returning from a self-imposed exile, Con Mallard had need of his notorious gun rep to combat the savage welcome his old neighbors had waiting for him.
Joseph Chadwick "Trail-Town Raiders"
The tough town of Rawson prepared its tricks and its heady temptations for the unsuspecting trail-driver Riordan—who had acquired plenty of steam to let off.
Ed Montgomery "Robber's Reunion"
When Cowhide County elected a sheriff, hardcases took over the vote getting.
Western Magazine Vol. 5 No. 1 Feb. 1958
Publisher: Martin Goodman
Editor: Harry Widmer
Business Manager: Monroe Froehlich, Jr.
Art Director: Mel Blum
~5.5" x 7.75" 160 pages 35¢
Read Peter Enfantino's story-by-story recap of Western Magazine in The Digest Enthusiast No. 8.