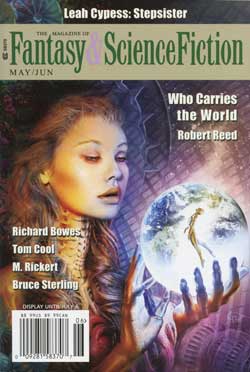 May Digests
Fantasy & Science Fiction May/June 2020
Contents Page
Tom Cool and Bruce Sterling "Hornet and Butterfly"
Leah Cypess "Stepsister"
Ray Nayler "Eyes of the Forest"
Jane Yolen "Mab's Wedding" (verse)
Charles de Lint: Books to Look For
—Carbon by Andrew Vachas
—In Restless Dreams by Wren Handman
—Comics Will Break Your Heart by Faith Erin Hicks
—Well of Magic by BR Kingsolver
—Stray Bats by Margo Lanagan and Kathleen Jennings
James Sallis' Books
—Sooner or Later Everything Falls into the Sea by Sarah Pinsker
—All Worlds are Real by Susan Palwick
—Meet Me in the Future by Kameron Hurley
Paul Di Filippo's Plumage from Pegasus: Faster, Publisher! Binge! Binge!
Holly Messinger "Byzantine"
Rich Larson "Warm Math"
Joseph Bruchac "An Indian Love Call"
Rebecca Zahabi "Birds Without Wings"
Mary Soon Lee "First Contact" (verse)
Marc Laidlaw's Games
—Sekiro: Shadows Die Twice
—A Plague Tale: Innocence
Karin Lowachee's Films: The Disease of Class Divisions
Jerry Oltion's Science: Starlink, Star Junk
F&SF Competition No. 99 "Ignorance is Bliss"
F&SF Competition No. 100 "The Lowest Form of Humor"
Richard Bowes "In the Eyes of Jack Saul"
Robert Reed "Who Carries the World"
M. Rickert "Another F*cken Fairy Tale"
Coming Attractions
F&SF Market Place
Paul Di Filippo's Curiosities: Hackenfeller's Ape by Brigid Brophy
Fantasy & Science Fiction Vol. 138 No. 5 and 6, No. 749, May/June 2020
Publisher: Gordon Van Gelder
Editor: C.C. Finlay
Assistant Publishers: Barbara J. Norton, Keith Kahla
Assistant Editors: Robin O'Connor, Stephen L. Mazur, Lisa Rogers
Contests Editor: Carol Pinchefsky
Cover: Maurizio Manzieri "Who Carries the World"
Cartoons: Kendra Allenby, Bill Long, Arthur Masear
258 pages, $8.99 on newsstands until July 6, 2020
Fantasy & Science Fiction website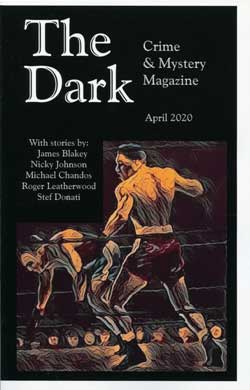 The Dark City April 2020
Contents Page
James Blakey "How to Become a Successful 21st Century Cybercriminal (In Five Easy Steps)"
Nicky Johnson "The Darkest of Games"
Michael Chandos "The Happy Ending"
Roger Leatherwood "Green is the Only Color"
Stef Donati "Only a Mother"
The Dark City Crime and Mystery Magazine Vol. 5 No. 3 April 2020
Editor & Publisher: Steve Oliver
Contributing Editors: Barbara Curtis, Darin Krogh
5.5" x 8.5" 120 pages $6.99
The Dark City Mystery Magazine website
2020 Dell Mystery Magazines
Virtual Awards Celebration and Presentation of the EQMM Readers Award
Storytime
The new online issue is out at Flash Bang Mysteries. (Thanks, Kevin Tipple.)
John M. Floyd's "Flue Sesaon" at Shotgun Honey. (Thanks, Kevin Tipple.)
Rob McClure's "Against the Grain" at Rusty Barnes' Tough Crime.

Digest Reviews
Gideon Marcus reviews Galaxy June 1965 at Galactic Journey.
Robert Lopresti reviews "Noble Rot" by Richard Helms (EQMM May/Jun 2020) at Little Big Crimes.
James Reasoner reviews Commando: J-for-Judas at Rough Edges.
John Boston reviews Amazing June 1965 at Galactic Journey.
Victoria Silverwolf reviews Worlds of Tomorrow July 1965 at Galactic Journey.
TDE Contributors' Corner
Uncle Jack and Cousin Peter review Creepy No. 43, Vampi No. 15, and Eerie No. 37 at bare•bones e-zine.
Peter Enfantino reviews Strange Tales No. 19, Spellbound No. 15, Mystery Tales No. 12, Menace No. 4, and Men's Adventures No. 22 at bare•bones e-zine.

Digest Magazine Blogs
Tom Cool and Bruce Sterling on their story "Hornet and Butterfly" from F&SF May/Jun 20202 at Fantasy & Science Fiction.
Sarah Gallien discusses the origins of her poem "The New Planet" from Analog May/Jun 2020 at The Astounding Analog Companion.
R.T. Raichev examines Agatha Christie's first and last short stories at EQMM's Something is Going to Happen.
Rick Wilber and Brad Aiken on "Ithaca" from Asimov's May/Jun 2020 at From Earth to the Stars.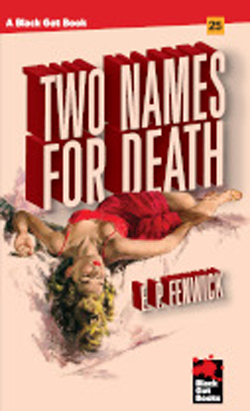 TDE Advertiser Spotlight
Fans of nail-biting, genre fiction and reference works about same, should sign up for Stark House Press's newsletter and browse the Stark House Press website. Check out their $5 warehouse sale now, bargain abound.
Digest Magazine Podcasts
ECR Podclash episode one "Recompense" by William R. Soldan.
Pulp Lit Newsletter
The May 2020 edition of the Pulp Literature e-news is out.
Readin' and Writin'
Paul D. Marks (TDE11 interview) writes about the L.A. locations in his new novel The Blues Don't Care at SleuthSayers.
Chris Rhatigan offers One Approach to Writing Short Stories at Do Some Damage. (Thanks, David Nemeth.)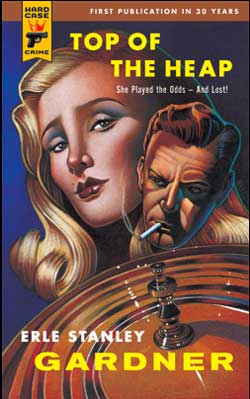 Read the Hard Case Crime edition of Top of the Heap by Erle Stanley Gardner this week. Originally written as by A.A. Fair in 1952, this is No. 13 of his Donald Lam/Bertha Cool series. Lam somehow manages a driving narrative while methodically untangling an intricate plot. Fortunately, the weakest link, his partner Cool, intended to add comic relief, is a minor part of the action. Beginning, middle, and end, a fully satisfying murder mystery. More about Lam and Cool at Thrilling Detective.
Artist Ran Scott delivered four illustrations this week, which were added to the latest rev of Pulp Modern Vol. 2 No. 5. Booked (InDesign function) all of the individual articles for The Digest Enthusiast No. 12 and created the first digital proof. Laid out its cover that features an illustration Tony Gleeson painted on spec for Sol Cohen for Amazing Science Fiction back in the mid-1970s. Rick McCollum completed the art for Rick Ollerman's story. Sent ads to Switchblade and EconoClash Review for PM5 and TDE12—and another one for TDE12 for The Pulpster. A productive week for Larque Press.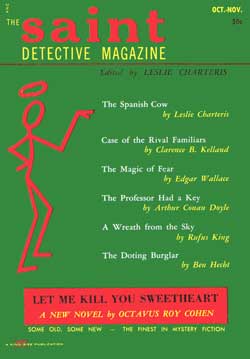 Vintage Crime Digest
The Saint Detective Magazine Oct.-Nov. 1953
Contents Page
Leslie Charteris "The Spanish Cow"
Octavus Roy Cohen "Let Me Kill You Sweetheart"
Clarence Budington Kelland "Case of the Rival Familiars"
William Campbell Gault "Sweet Rolls and Murder"
Arthur Conan Doyle "The Professor Had a Key"
Morris Cooper "A Murder of No Importance"
Edgar Wallace "The Magic of Fear"
Rufus King "The Wreath From the Sky"
Cornell Woolrich "It Had to Be Murder"
Hayden Howard "Murder on San Afet"
Ben Hecht "The Doting Burglar"
The Saint Detective Magazine Vol. 1 No. 4 Oct.-Nov. 1953
President: H.L. Herbert
Publisher: Leo Margulies
Editor: Sam Merwin, Jr.
Supervising Editor: Leslie Charteris
192 pages, cover price 50¢