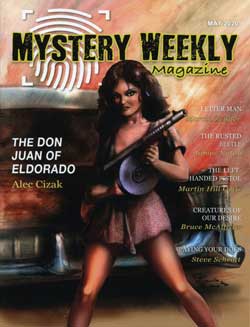 New Releases
Mystery Weekly Magazine May 2020
Contents Page
James Nolan "The Rusted Beetle"
Martin Zeigler "Letter Man"
Alec Cizak "The Don Juan of Eldorado"
Steve Schrott "Paying Your Dues"
Bruce McAllister "Creatures of Our Desire"
Martin Hill Oritz "The Left-Handed Pistol"
Stacy Woodson "Desperate Letters" (A You-Solve-It)
Mystery Weekly Magazine No. 57 May 2020
Publisher: Chuck Carter
Editor: Kerry Carter
Cover: Robin Grenville-Evans
7.5" x 9.75" 88 pages
Print $6.99 Kindle $3.99
MWM Website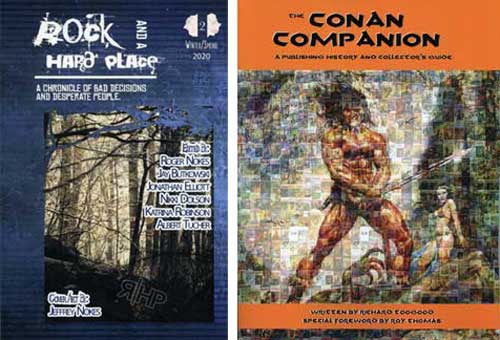 Rock and a Hard Place No. 2 Winter/Spring 2020
Fiction, essay, poetry, and art contributors are listed at the Rock and a Hard Place Mag website.
Editor-in-Chief: Roger Nokes
Managing Editor: Jay Butkowski
Producing Editor: Jonathan Elliott
Associate Editor: Nikki Dolson
Associate Editor: Katrina Robinson
Associate Editor: Albert Tucker
6" x 9" 156 pages
Print $12.95 Kindle $2.99
The Conan Companion
This full-size (8.5" x 11"), full color collector's guide by Richard Toogood traces the path of Conan from pulps to paperbacks and devotes a chapter to each publisher: Lancer, Sphere, Berkley, Ace, Bantam, and Tor. Complete with an introduction by Roy Thomas, this 107-page volume is available for $14.92 from the usual places.
Storytime
Gary Hoffman's "No Secret Ever Stays Hidden" at Kings River Life. (Thanks, Kevin Tipple.)
Cameron Mount reads "Silo" on the EconoClash Review's Podclash.
Alec Cizak reads his story "Worms" on YouTube.
Digest Magazine Reviews
Robert Lopresti reviews "Borrowed Brains" by Alaric Hunt from EQMM May/Jun 2020 at Little Big Crimes.

Paul Fraser reviews Astounding Science Fiction Nov. 1944 at SF Magazines.
Matthew Wuertz reviews Galaxy Oct. 1954 at Black Gate.
Gideon Marcus reviews F&SF June 1965 at Galactic Journey.
James Reasoner reviews Commando: Destination Siberia at Rough Edges.
Gabe Dybing reviews highlights from Dell's May/Jun 2020 SF digests at Black Gate.

Digest Magazine Blogs
Ray Nayler on his story "Eyes of the Forest" from F&SF May/Jun 2020 at Fantasy & Science Fiction.
G.O. Clark on his poem "Miles to Go Before We Rest" from Analog May/Jun 2020 at The Astounding Analog Companion.
Katherine Hall Page whose "The End of the Line" appears in EQMM May/Jun 2020 discusses mystery and cooking at Something is Going to Happen.
TDE Contributor's Corner
Jack Seabrook and Peter Enfantino review Batman No. 320 Feb. 1980 at bare•bones e-zine.
Jack Seabrook's The Hitchcock Project: Morton Fine and David Friedkin Part Four adapt "Thou Still Unravished Bride" by Avram Davidson from EQMM Oct. 1958 at bare•bones e-zine.
Readin' and Writin"
Barb Goffman discusses "Where to Start" at SleuthSayers.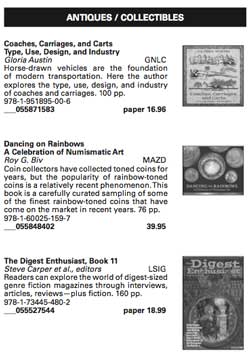 Most of my reading this week centered on Will Murray's Wordslingers, which I will recap briefly next week if I've finished it by then. Also proofread most of The Digest Enthusiast. Yes, I do proofread every page and caption. Unfortunately, it's never perfect and I inevitably find typos as soon as an issue is published. Such is the fate of a small-time operator like Larque Press. Going through the whole issue felt great and I hope it will be one our readers enjoy.
As mentioned earlier this year, the print version of TDE11 is printed via IngramSpark. I purchased an "announcement" for it in January for their catalog, Ingram Advance, and just this week received a PDF copy of the May 2020 edition. Their nearly 200-page catalog goes out to hundreds of booksellers every month. Of course, this is a terrible year for booksellers, but I hope it helps raise awareness of my humble efforts.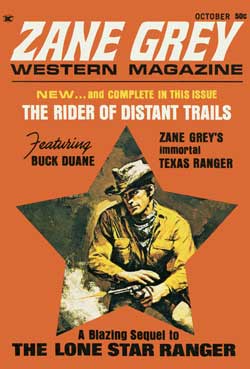 Vintage Western Digest
Zane Grey Western Magazine Oct. 1969
Leo Margulies: They Live Again! (introduction)
Contents Page
Romer Zane Grey "The Rider of Distant Trails"
Frank Gruber "The Store"
Joe Gores "Gunman in Town"
Talmage Powell "Rawhider's Woman"
Zane Grey "The Horses of Bostil's Ford" (A Zane Grey Masterpiece)
Gil Brewer "The Mountain Kid"
Walter Dallas' Tombstone: Too Tough to Die
Wiliiam MacLeod Raine "Doan Whispers"
Zane Grey Western Magazine Vol.1 No. 1 Oct. 1969
Publisher: Leo Margulies
Editorial Director: Cylvia Kleinman
Advisory Editor: Romer Grey
Advisory Editor: Dr. Loren Grey
5.25" x 7.75" 128 pages
50¢ cover price