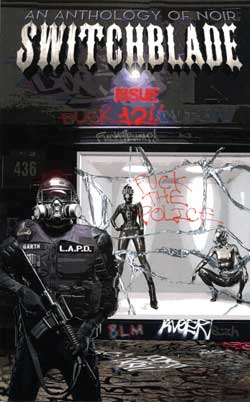 New Release
Switchblade No. 12
Russell Highland "The Great Morality" (verse)
Contents Page
Scotch Rutherford: Editor's Corner
Sharp & Deadly Short Fiction
E.F. Sweetman :Sorry Not Sorry"
C.W. Blackwell "From Dusk to Blonde"
Jon Zelazny "Radio Sutch"
D.K. Latta "Forwarded Mail"
Walter Sandville "Sealing the Deal"
Elliot F. Sweeney "A Dirt Hit"
William R. Soldan "Like a Diamond in the Sky"
Nathan Pettigrew "Aileen of Savanne Road"
Andrew Miller "They Call Me Cuban Pete"
Quick & Dirty Flash Fiction
Patrick Whitehurst "Henrietta's Calming Way"
Albert Tucher "A Glitch in the Universe"
Preston Lang "The High Notes"
Serena Jayne "Checking Out"
Switchblade Person of Interest: Chris McGinley
Author Bios & Acknowledgements
Switchblade No. 12 July 2020
Managing Editor: Scotch Rutherford
5" x 8" 189 pages
Print $7.99 Kindle $2.99
Switchblade Magazine website

Digest Magazine Writer News
Jay Werkheiser discusses his Science Fact article: Alien Biochemistry for Analog Jul/Aug 2020 at The Astounding Analog Companion.
Joseph S. Walker, whose story "Chasing Diamonds" will appear in EQMM Sep/Oct 2020 muses on "The Page Where It Happens" at Something is Going to Happen.
John Kessel on "Spirit Level" from F&SF Jul/Aug 2020 at Fantasy & Science Fiction.
Ted Kosmatka on "The Beast Adjoins" from Asimov's Jul/Aug 2020 at From Earth to the Stars.
Storytime
Alec Cizak reads three poems by Robert E. Howard at ACTV.

TDE Contributors' Corner
Jack Seabrook and Peter Enfantino review The Untold Legend of Batman No. 1, Batman No. 325, The Brave and the Bold No. 164, and Detective Comics No. 492 at bare•bones e-zine.
Jack Seabrook's The Hitchcock Project—Harold Swanton Part Four: An Occurrence at Owl Creek Bridge at bare•bones e-zine.
Kristin Kisska interviews Josh Pachter about the "dying message" at SleuthSayers.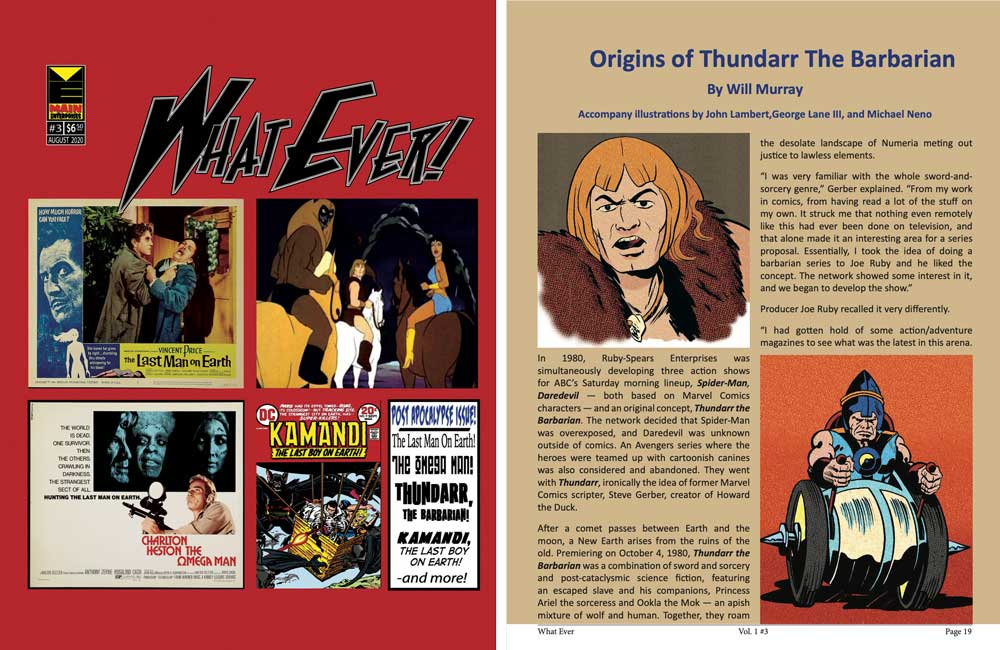 Zine Scene
The third issue of Jim Main's What Ever is out. This time, features include The Last Omega Men: Legends Compared by Michael House, Origins of Thundarr the Barbarian by Will Murray, a review of the series Kamandi, the Last Boy on Earth, and Fandom Central reviews. The piece on Thundarr includes artwork by TDE contributor Michael Neno. What Ever No. 3 is available for $8.50 (PPD) from Main Enterprises.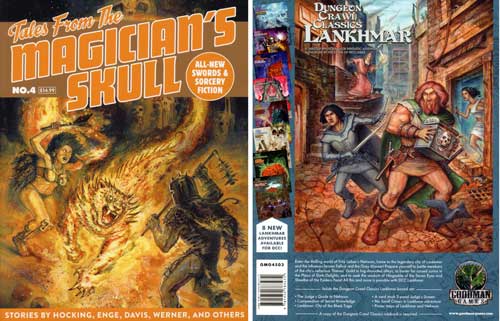 Readin' and Writin'
This week I read Tales From the Magician's Skull No. 4 with eight all new sword and sorcery yarns. It's a beautifully designed and illustrated full-size magazine. Included are stories by John C. Hocking, Adrian Cole, James Enge, James Stoddard, C.L. Werner, Ryan Harvey, Tom Doyle, and Milton Davis. Honestly, if you enjoy S&S you cannot go wrong with this issue, it's terrific. My only complaint is that I wish it were published in an easier-to-handle digest size.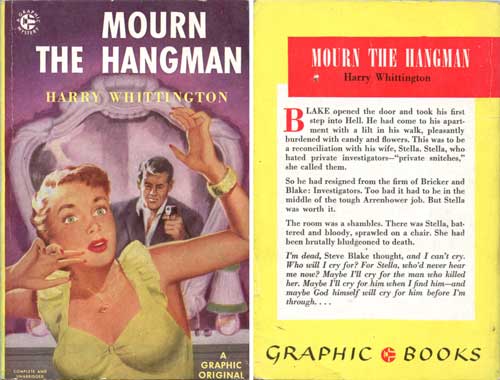 Also read Mourn the Hangman by Harry Whittington this week. The edition shown here is A Graphic Mystery No. 46, a paperback original first published in 1952. A Private Investigator arrives home to find his wife murdered. He immediately puts his worst judgements to work and finds himself suspect number one for the crime. He spends the rest of the novel avoiding arrest and desperately trying to discover who killed his wife. The book is well written, but the PI reviews and reflects on his emotional trauma too many times. Without all the redundancy the pacing and urgency would have made a stronger novel.
Completed the initial layouts on Gary Lovisi's article on Falcon Books and my review of Sword & Sorcery Annual for The Digest Enthusiast No. 13 this week. Also spent several hours retouching Mystery Book Magazine covers.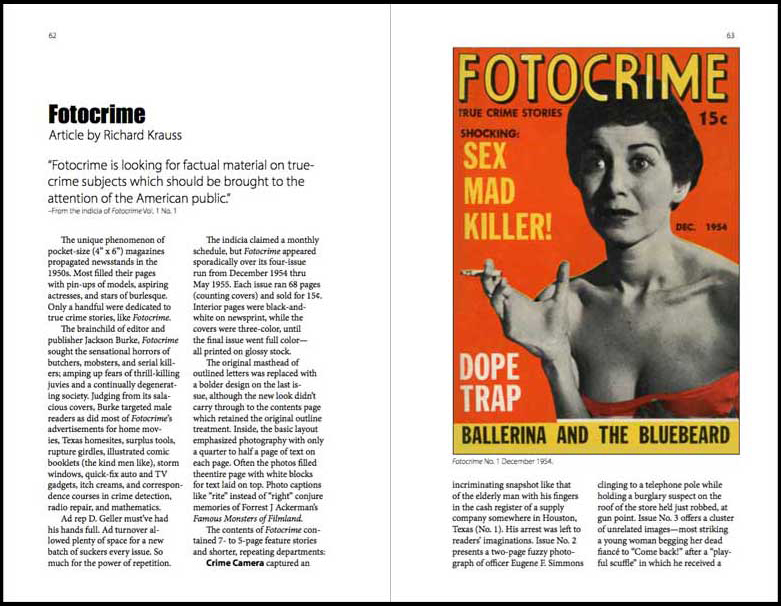 The unique phenomenon of pocket-size (4" x 6") magazines propagated newsstands in the 1950s. Most filled their pages with pin-ups of models, aspiring actresses, and stars of burlesque. Only a handful were dedicated to true crime stories like Fotocrime.
The brainchild of editor and publisher Jackson Burke, Fotocrime sought the sensational horrors of butchers, mobsters, and serial killers amping up fears of trill-killing juries and a continually degenerating society.
Read the whole sensational report in The Digest Enthusiast No. 12, available in print from Lulu.com and digital formats for Kindle and Magzter.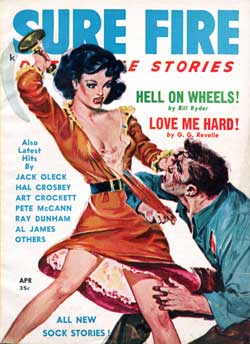 Vintage Crime Digest
Sure Fire Detective Stories April 1958
Contents Page
Pete McCann "A Challenge for the Killer!"
Art Crockett "Death Couldn't Reach Me!"
Ray Dunham "The Edge of Terror!"
Jack Oleck "Death with a Stranger!"
Don Unatin "Dead: Do Not Disturb!"
Mitch Clark "Murder is an Accident!"
Bill Ryder "Hell on Wheels!"
Al James "Steel Clad Alibi!"
Hal Crosby "The Face of Death!"
G.G. Revelle "Love Me Hard!"
Sure Fire Detective Stories Vol. 2 No. 2 April 1958
Pontiac Publications
Cover: Carl Pfeufer
5.5" x 7.5" 112 mags 35¢ cover price