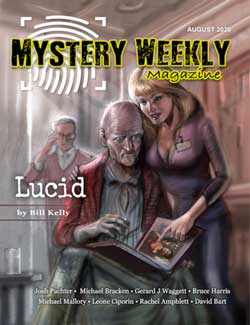 New Releases
Mystery Weekly Magazine Aug. 2020
Contents Page
Bill Kelly "Lucid"
Josh Pachter "The Odds Are Good"
Michael Bracken "Bone Soup"
Gerard J. Waggett "Suicide Insurance"
Leone Ciporin "The Power of the Dog"
Rachel Amphlett "A Grave Mistake"
Michael Mallory "Only the Desperate Come Here"
David Bart "A Little Housecleaning"
Bruce Harris "A Numbers Game" (You-Solve-It)
Mystery Weekly Magazine No. 60 Aug. 2020
Publisher: Chuck Carter
Editor: Kerry Carter
Cover: Robin Grenville-Evans
7.4" x 9.7" 85 pages
Print $7.99 Kindle $3.99
MWM Website

Digest Magazine Writers' Roundup
David Erik Nelson discusses his F&SF Jul/Aug 2020 cover story, "All Hail the Pizza King and Bless His Reign Eternal," at Fantasy & Science Fiction.
Mel Kassel talks "Crawfather" from F&SF Jul/Aug 2020 at Fantasy & Science Fiction.
Adam Ford on the secret origin of his poem "Dog Day Afternoon" from Asimov's Jul/Aug 2020 at From Earth to the Stars.
James Morrow on "Bible Stories for Adults, No. 37: The Jawbone" from F&SF Jul/Aug 2020 at Fantasy & Science Fiction.
Tom Purdom talks ray guns, personality mods, and quotes about his story "We All Lose if They Take Mizuba" from Asimov's Jul./Aug 2020 at From Earth to the Stars.

Digest Magazine Reviews
Robert Lopresti reviews "Only the Desperate Come Here" by Michael Mallory from Mystery Weekly Magazine Aug. 2020 at Little Big Crimes.
Suz Jay reviews Pulp Modern Vol. 2 No. 5 and awards it 4.5 stars at Goodreads.
Victoria Silverwolf reviews Fantastic Sept. 1965 at Galactic Journey.
James Reasoner reviews Commando: Raging Metal at Rough Edges.
Storytime
Alec Cizak reads three poems from The Five-Two on ACTV.
Tom Leins presents "Recalibration" at Pulp Modern Flash.

TDE Contributors' Corner
Jack Seabrook and Peter Enfantino review Batman No. 326, The Brave and the Bold No. 165, Detective Comics No. 493, and The Untold Legend of Batman No. 2 at bare•bones e-zine.
Jack Seabrook presents The Hitchcock Project—Harold Swanton Part Five: "Summer Shade" (adapted from an AHMM Oct. 1960 story) at bare•bones e-zine.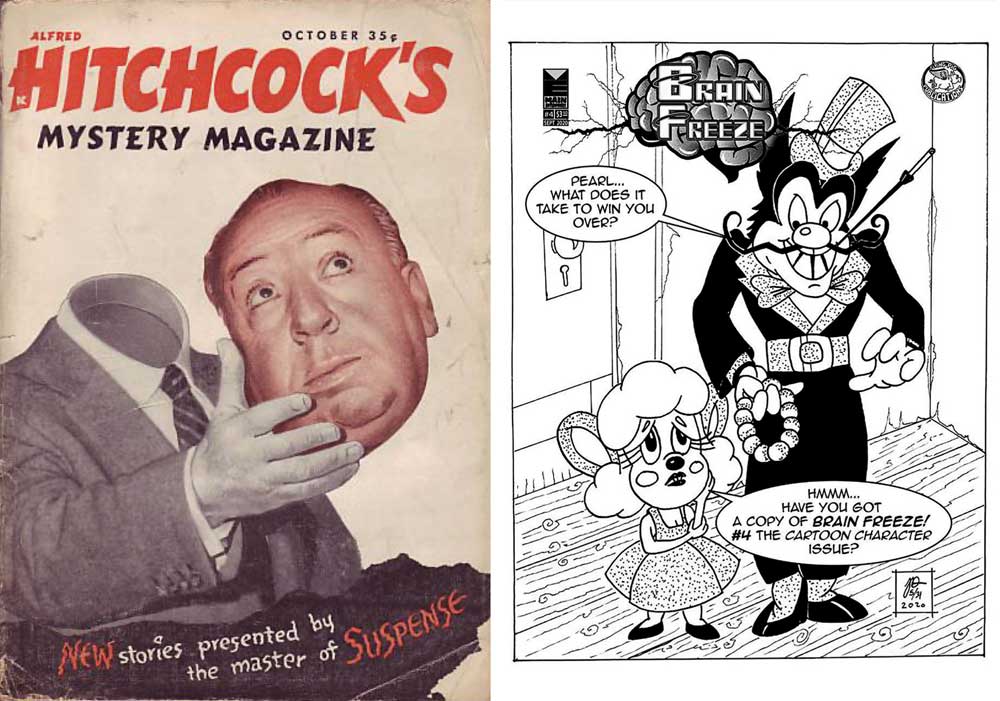 Zine Scene
Jim Main's latest mini comic Brain Freeze No. 4 is available for $5.00 postage paid from Main Enterprises PO Box 93, New Milford, CT 06776. The 40-page issue includes work by well over a dozen cartoonists including John Lambert, Brad W. Foster, Doug Halverson, and many, many others.
Also, Michael Neno's Horse Crime Comics mini comic is now available at Nenoworld.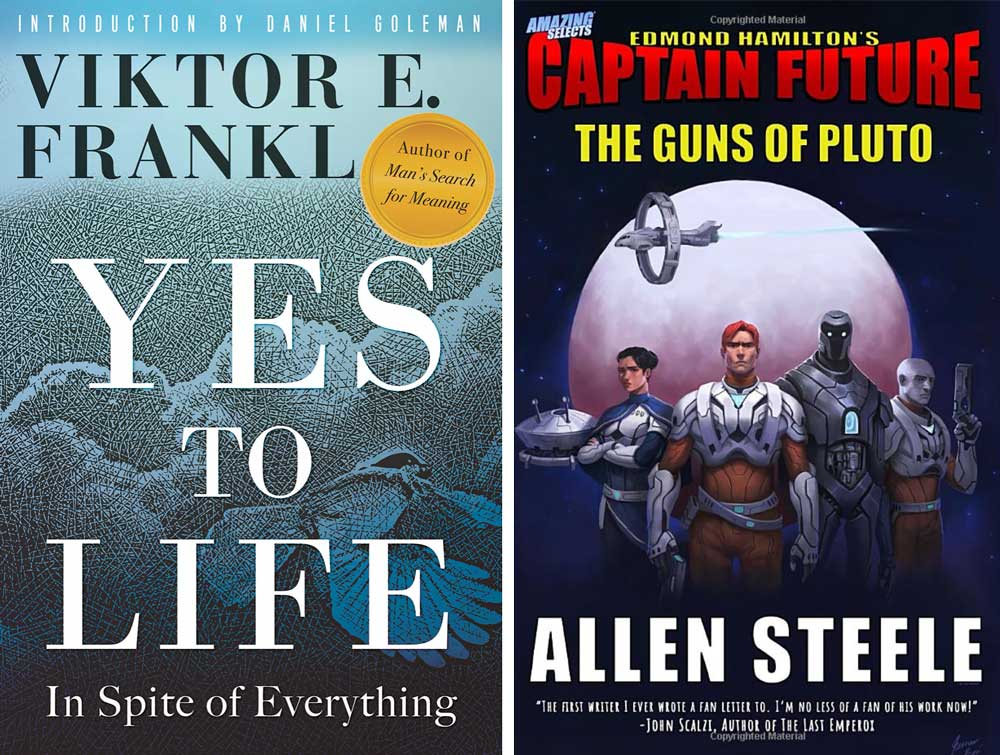 Readin' and Writin'
Finished listening to Victor E. Frankl's Yes to Life: In Spite of Everything this week. The book consists of three lectures Frankl gave shortly after his liberation from concentration camps after WWII on the meaning of life. Surprisingly uplifting and of course, thought provoking.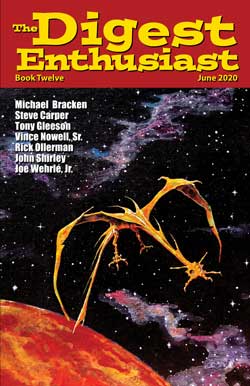 Also read the second edition of Amazing Selects with Edmond Hamilton's Captain Future starring in The Guns of Pluto by Allen Steele. This adventure is the second installment of Steele's trilogy of The Return of Ul Quorn, sequel to Avengers of the Moon. Great read with clever plotting. Can't wait to get my eyeballs on the conclusion. Plus this edition includes a bonus reprint of Hamilton's "The Harpers of Titan," a story in which the Brain takes center stage, with the rest of the crew in supporting roles.
Finished writing an article/review of Flying Eagle's 1953 digest magazine Verdict and submitted it to Peter Enfantino of Cimarron Street books for a future edition of bare•bones.
Also gained feedback on my sword and sorcery story "The Children of Aldwier" from my writing group. After some tweaks, the story will appear in TDE13, scheduled for January 2021.
Karl awarded The Digest Enthusiast No. 12 a five-star rating on Goodreads this week. Thank you, Karl! The issue is available in print from Lulu.com (and amazon), and in digital formats for Kindle and Magzter.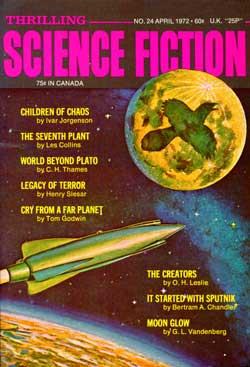 Vintage SF Digest
Thrilling Science Fiction No. 24 April 1972
Contents Page
Ivar Jorgenson "Children of Chaos"
Les Collins "The Seventh Planet" art by Schroeder
C.H. Thomas "World Beyond Pluto" art by Novick
Henry Slesar "Legacy of Terror" art by Virgil Finlay
Tom Godwin "Cry From a Far Planet" art by Martinez
O.H. Leslie "The Creators"
A. Bertram Chandler "It Started with Sputnik" art by Llewellyn
G.L. Vendenberg "Moon Glow"
A. Morris & Malcolm Smith "The Thing on the Moon"
Thrilling Science Fiction No. 24 April 1972
Ultimate Publishing
5.25" x 7.75" 132 pages 60¢