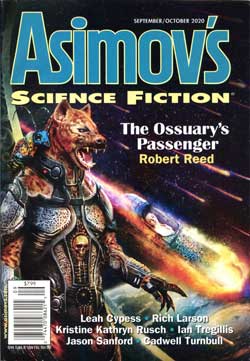 New Releases
Asimov's Science Fiction Sep/Oct 2020
Contents Page
Sheila Williams' Editorial: Forty-Fourth Annual Readers' Awards' Results
Robert Silverberg's Reflections: The Road Not Taken
James Patrick Kelly's On the Net: Meet Your Subliminal Self
Jane Yolen "Gretel's Bone" (verse)
Kristine Kathryn Rusch "Maelstrom"
Robert Frazier "Photograph #51" (verse)
Leah Cypess "A Sideways Slant of Light"
Robert Reed "The Ossuary's Passenger"
Bruce Boston "Incomplete Adaptation" (verse)
Ian Tregillis "When God Sits in Your Lap"
Cadwell Turnbull "Shock of Birth"
Jason Sanford "The Eight-Thousanders"
David C. Kopaska-Merkel "A Rare and Wondrous Thing" (verse)
M. Bennardo "A Vengeful Revenant"
Michael Meyerhofer "In Horror Movies, Whenever Someone Gets Their Soul Sucked Out" (verse)
R. Garcia y Robertson "Escaping Real Time"
Michael Libling "Robyn in Her Shiny Blue Coffin"
Next Issue
Y.M. Pang "Mangy White Dog"
Gregory Frost "Traveling On"
Rich Larson "The Conceptual Shark"
Josh Pearce "Self-Assembly Required"(verse)
Gray Rinehart "Flare Shack"
Fred D. White "Dawn Fiddler" (verse)
Peter Heck: On Books
Mary Soon Lee "Cavall" (verse)
Erwin Strauss: SF Conventional Calendar
Asimov's Science Fiction Vol. 44 No. 9 & 10, whole No. 536 & 537, Sep/Oct 2020
Publisher: Peter Kanter
Editor: Sheila Williams
Managing Editor: Emily Hockaday
Editorial Assistant: Rae Purdom
Senior Director of Art & Production: Porter C. McKinnon
Senior Art Director: Victoria Green
Cover: Maurizio Manzieri
208 pages, $7.99 on newsstands until Oct. 20, 2020
Asimov's website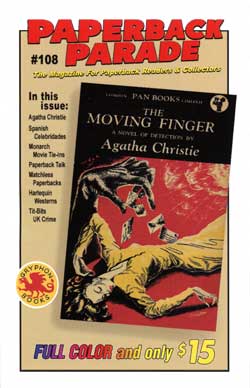 Paperback Parade No. 108
A production glitch on this issue forced the cover of the last issue onto this one. The workaround is a "dustjacket" correction. Not ideal, but now it's a "highly collectible" edition!
Contents Page
Gary Lovisi's Paperback Talk
Jules Burt "Agatha Christie in Vintage Pan Paperbacks"
Rich Greene "Gil Cohen's She Adventure"
Bruce Tinkel "Monarch Movie Tie-In Paperbacks"
Gary Lovisi "The Celebridades Series from Spain"
Rich Greene "Matchless Paperbacks"
Tom Lesser "Tit-Bits Crime Fiction Library"
Jim Fitzpatrick "Harlequin Westerns and Northerns"
Paperback Parade No. 108 Aug. 2020
Editor: Gary Lovisi
Designer: Richard Greene
~5.5" x 8.5" 96 pages, full color throughout
$15 + postage for a single issue
$40 for three-issue subscription
Gryphon Books website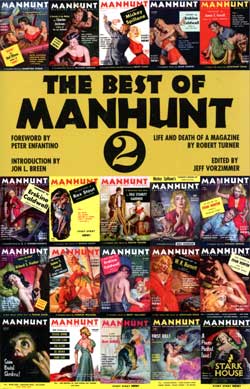 The Best of Manhunt 2 is out from Stark House Press.
Content Includes:
Peter Enfantino's Foreword: For the Love of Manhunt
Jon L. Breen: Introduction
Jon L. Breen: On the Passing of Manhunt
Robert Turner: Life and Death of a Magazine
Jeff Vorzimmer: 35 stories collected from the pages of the magazine
The Best of Manhunt 2
Publisher: Greg Shepard
Editor: Jeff Vorzimmer
Art Director: Mark Shepard
5.5" x 8.5" 424 pages
Print $21.95 Kindle $5.49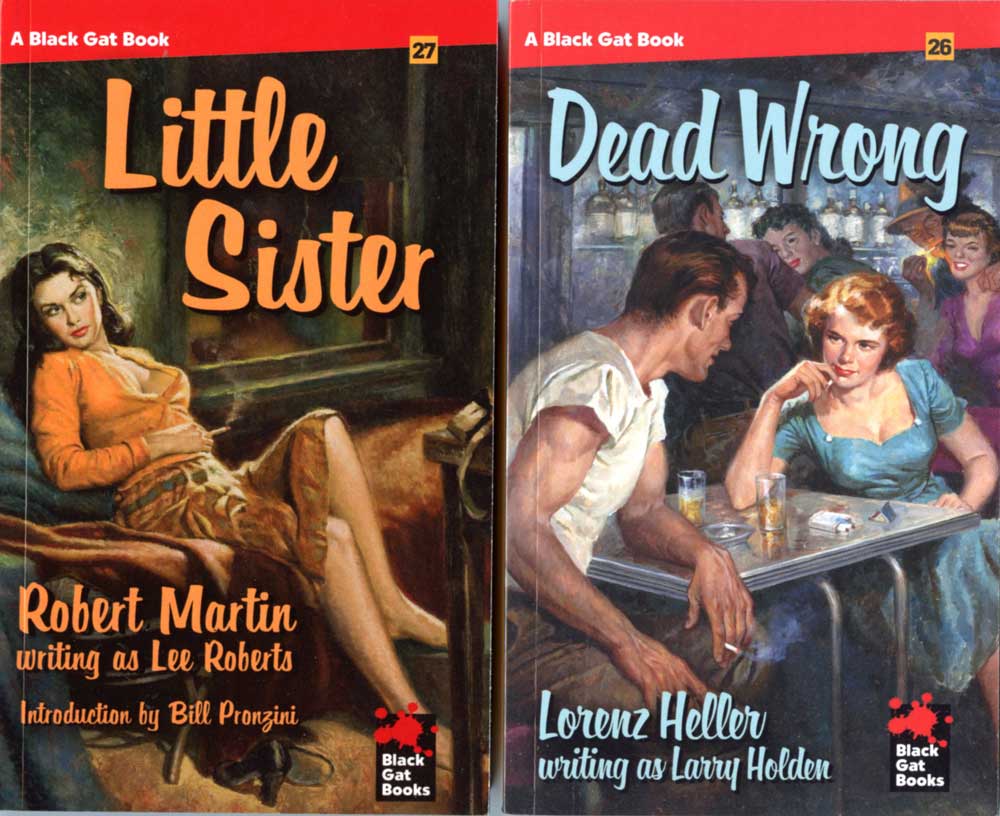 Not a Digest
Also out from Stark House Press are the latest two books from their Black Gat Books paperback series:
No. 26 Dead Wrong by Lorenz Heller
No. 27 Little Sister by Robert Martin

Digest Magazine Writers' Updates
Natalia Theodoridou on "The Shape of Gifts" from F&SF Jul/Aug 2020 at Fantasy & Science Fiction.
Barb Goffman on the appeal of epistolary stories like her "Dear Emily Etiquette" in EQMM Sep/Oct 2020 at SleuthSayers.
Editor C.C. Finlay provides an overview of F&SF Sep/Oct 2020 at Fantasy & Science Fiction.
M.L. Clark who wrote "Seeding the Mountains" for Analog Sep/Oct 2020, interviews two Colombian SF creators invested in broadening the scope of Colombian SF at The Astounding Analog Companion.
Pulp Literature shares their latest e-news, which includes development details on their upcoming podcast series Pulp Lit Pulpit. Read the entire
e-newsletter here.
Violet Welles whose "Round-Trip Runaways" appears in EQMM Sep/Oct 2020 discusses "How Anxiety Draws Me to Mystery" at Something is Going to Happen.
Ian Tregillis on "When God Sits in Your Lap" from Asimov's Sep/Oct 2020 at From Earth to the Stars.
Digest Magazine Reviews
Catherine Dilts reviews AHMM Jul/Aug 2020 at Catherine Edits. (Thanks, Kevin Tipple.)
Alan Cranis reviews The Best of Manhunt 2 at Bookgasm.
Storytime
Michael Bracken's "I Would Do Anything for You" at Pulp Modern Flash.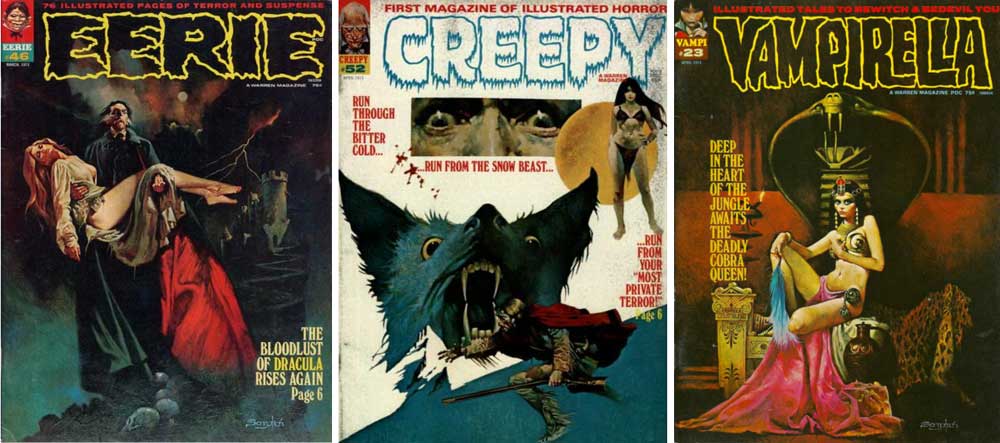 TDE Contributors' Corner
Uncle Jack (Seabrook) and Cousin Peter (Enfantino) review Eerie No. 46, Creepy No. 52, and Vampirella No. 23 at bare•bones e-zine.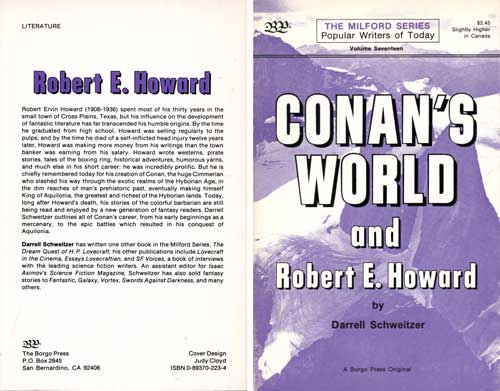 Readin' and Writin'
This week I read Darrell Schweitzer's essay for the Milford Series: Conan's World and Robert E. Howard. I have mixed feelings about it. Schweitzer praises Howard's work throughout, but he also spends considerable wordage on complaints of laziness, repetition, weak plotting, etc. Overall, the negatives overshadow the positives. It didn't leave me anxious to dive back into Howard's work, and as a fan, that's not the feeling one ought to walk away with. That said, the essay is well-researched, tracing the history of stories recast and retitled until publication and/or reprinted. It also covers stories and partials edited/reworked by L. Sprague de Camp and others. Schweitzer includes useful recaps of all of Howard's Conan stories and well as ratings that run from "excellent" to "pretty bad."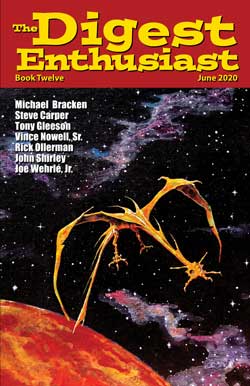 Marc Myers, Jonathan Falk, and I (and a few others) are working on a collection of the late Roman Scott's comics and zines. Marc sent page scans of the work, and I've begun the production work, squaring images and clean-up. Thus far I've completed Oddities Comix and the full run of Oddities (No. 1–7).
Spent a few hours this week coloring the six cartoons Bob Vojtko sent in for The Digest Enthusiast No. 13, due out in January 2021.
Bud Plant's Fall 2020 Incredible Catalog is out. Download your copy from Bud's Art Books.
Our current issue: The Digest Enthusiast No. 12 is available in print at Lulu.com and Amazon, and in digital formats at Kindle Books and Magzter.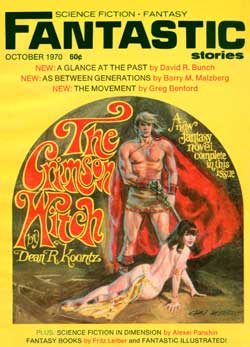 Vintage SF/Fantasy Digest
Fantastic October 1970
Contents Page
Ted White: Editorial
Dean R. Koontz "The Crimson Witch" art by Jeff Jones
Greg Benford "The Movement" art by Gray Morrow
David R. Bunch "A Glance at the Past" art by Dan Adkins
Barry N. Malzberg: As Between Generations
Alexei Panshin: Science Fiction in Dimension
David Wright O'Brien "Spook for Yourself" art by J. Jackson from Fantastic Adventures Jan. 1942
Michael Juergens: Fantasy Fandom
Fantasy Books reviewed by Fritz Leiber and Hank Stine
According to You (Letters)
Jay Kinney's Fantastic Illustrated: 2000 A.D. Man
Classified Market Place
Fantastic Vol. 20 No. 1 October 1970
Publisher: Sol Cohen
Associate Publisher: Arthur Bernhard
Editor: Ted White
Associate Editor: Arnold Katz
Assistant Editor: Alan Shaw
Art Director: Harry Lee
Cover: Gray Morrow
5.5" x 7.5" 144 pages 60 cents