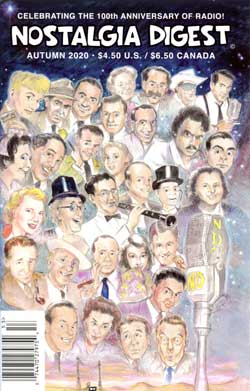 New Releases
Nostalgia Digest Autumn 2020
Contents
Steve Darnall "Hello, Out There in Radioland!"
Steve Darnall "Reflections of a Golden Age" (cover story)
Dan McGuire "At This Theatre Next Week" Chapter Four
Jordan Elliott "Man and Superman" (Clayton Collyer)
Clair Schulz "Smilin' Through" (Pegy Lynch)
Walter Scannell "This Ladd for Hire" (Alan Ladd)
Wayne Klatt "Pleasant Screams" (radio's scary shows)
Alex Udvary "Hollywood Madmen" (Clark & McCullogh)
Stone Wallace "Prince of Players" (Raymond Massey)
Mail Call
Plus, the Radio Program Guide for Those Were the Days and WGN Radio Theatre
Nostalgia Digest Book 46 Chapter 4 Autumn 2020
Editor: Steve Darnall
Cover: Mark Braun
5.5" x 8.5" 64 pages, b&w interior
$4.50 on newsstands
Four-issue subscription $17
Eight-issue subscription $30
Nostalgia Digest website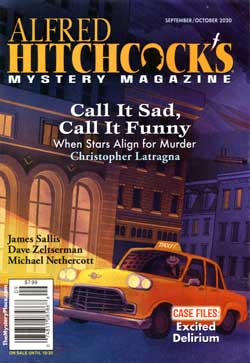 Alfred Hitchcock's Mystery Magazine Sep/Oct 2020
Contents Page
Linda Landrigan: A Word of Thanks
The Lineup
Elliot F. Sweeney "Mrs. White Hart" art by Kimberly Cho
Dan Crawford "Storage"
Jane Pendjiky "Fruiting Bodies"
Mysterious Photograph $25 fiction contest "The Handoff"
Christopher Latragna "Call it Sad, Call it Funny"
Sharon Jarvis "Who Killed What's Her Name?"
Laurel Flores Fantauzzo: Booked and Printed
James Sallis "The Beauty of Sunsets"
Wouter Boonstra "Archored" translated from the Dutch by Josh Pachter
Steven Gore "Inflection" art by Daniel Zalkus
Mark Lagasse: Scrambled Hitch (puzzle, solution on page 192)
Arlene Fisher: Dying Words (acrostic puzzle, solution on page 192)
Richard Freeborn "Family Harmony"
John Paul Davies "Limited Edition"
Dave Zeltserman "Past Due" art by Kevin Speidell
Michael Nethercott "Old Echoes"
Tom Larsen "Buscando Tupac"
Bob Tippee "You Said This Was Business"
Josh Pachter selects/introduces a Mystery Classic: "Thubway Tham's Hoodoo Roll" by Johnston McCulley (Detective Story Magazine Nov. 12, 1921)
Lee Lofland's Case File: Excited Delirium
The Story That Won (May/Jun) "Never a Dull Moment in the Kitchen" by Rosemary Herbert
Coming in AHMM Nov/Dec 2020
Directory of Services/Indicia
Alfred Hitchcock's Mystery Magazine Vol. 65 No. 9 & 10 Sep/Oct 2020
Publisher: Peter Kanter
Editor: Linda Landrigan
Managing Editor: Jackie Sherbow
Senior Director of Art & Production: Porter C. McKinnon
Senior ADs: Victoria Green, Thomas Slosser
Cover: Erika Steiskal
192 pages
$7.99 on newsstands until Oct. 20, 2020
Alfred Hitchcock Mystery Magazine website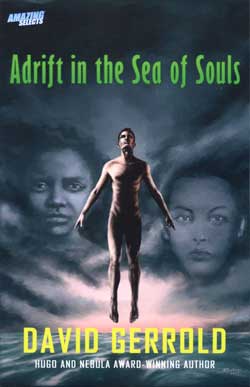 Amazing Selects No. 3:
Adrift in the Sea of Souls by David Gerrold
Contents Page
Adam-Troy Castro's Introduction: The Sprung Chicken
Steve Davidson's Publisher's Note: David Gerrold
David Gerrold "Adrift in the Sea of Souls"
David Gerrold "The White Piano"
David Gerrold "Jacob in Manhattan"
Author's Afterword
About the Author
Art the Artist: M.D. Jackson
Amazing Selects No. 3
Publisher: Steve Davidson
Cover and interior artwork M.D. Jackson
5.5" x 8.5" 170 pages
Print $8.99 Kindle $8.99
Amazing Stories website
Also out is Mystery Weekly Magazine Sep. 2020, with stories by Nick LeGrand, Edward Lodi, Joseph S. Walker, Benjamin Mark, William Burton McCormick, Shea E. Butler, Stan Dryer, and Eric B. Rurark. Available in print $7.99 and Kindle $3.99
Kevin Tipple highlights Fiction River: Stolen at The Short Mystery Fiction Society Blog.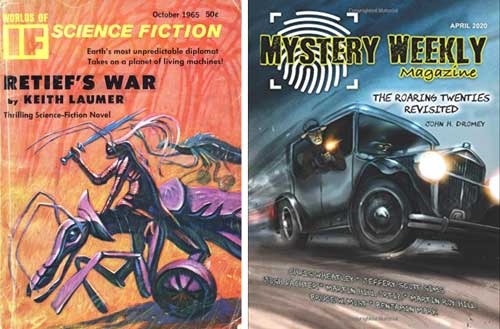 Digest Magazine Reviews
John O'Neill gives an overview of the "Big 5" digests for Sep/Oct 2020 at Black Gate.
Robert Lopresti reviews Joseph S. Walker's "Golden Lives" from Mystery Weekly Magazine Sep. 2020 at Little Big Crimes.
David Levinson reviews Worlds of If Oct. 1965 at Galactic Journey.
Kevin Tipple reviews Mystery Weekly Magazine April 2020 at Kevin's Corner.

Digest Magazine Writers' Updates
Alan Dean Foster, whose "The Treasure of the Lugar Morto" appears in Analog Sep/Oct 2020, talks about writing at The Astounding Analog Companion.
Iris Hockaday, whose story "The Thunderstorm" appears in EQMM Jul/Aug 2020, reflects on "mystery" at Something is Going to Happen.
Jason Sandford on "The Eight-Thousanders" from Asimov's Sep/Ocy 2020 at From Earth to the Stars.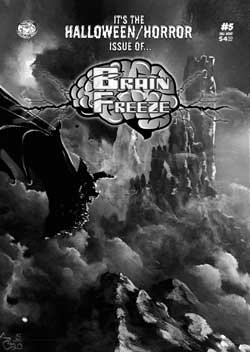 Storytime
Charlie Cancel's "R/amitheasshole Posted by Tammy Whammy 2 Hours Ago" at Pulp Modern Flash.
Josh Pachter reads his "The Secret Lagoon" from EQMM Sep/Oct 2019 at Podomatic.
Zine Scene
Jim Main's Brain Freeze No. 5 was released this week. Its contributor list is too long to re-create here, but includes TDE illustrator Rick McCollum. The 52-page zine is available for $6.25 post paid from:
Main Enterprises
PO Box 93
New Milford, CT 06776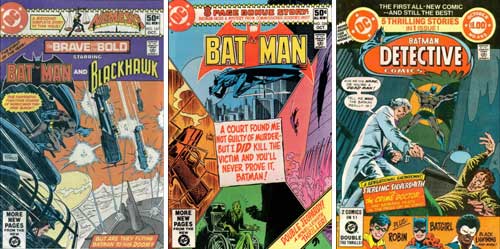 TDE Contributors' Corner
Jack Seabrook and Peter Enfantino review The Brave and the Bold No. 167, Batman No. 328, and Detective No. 495 at bare•bones e-zine.
Richard Kellogg sent a press release for his new book: Barry Baskerville's Christmas Mystery (Airship 27, 2020) by Richard Kellogg and lavishly illustrated by Gary Kato, is now available from Amazon.com. In the seventh entry of this series of mysteries for children, Barry uses all his skills of observation and deduction to identify a thief who has been stealing Christmas trees from the lawns of the residents of Watsonville. Young readers will learn about the methods used by Sherlock Holmes while improving their own problem-solving skills. Sherlockians will find the book a great holiday gift for their children and grandchildren.
Jack Seabrook's The Hitchcock Project—Harold Swanton Part Seven: Bang! You're Dead at bare•bones e-zine.
Readin' and Writin'
Alec Cizak offers creative writing tips on plotting at ACTV.
Did a fair about of reading this week, but didn't finish any one of the books or digests currently in play. More next week.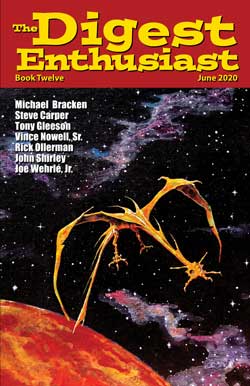 Finished retouching the pages of Head No. 1 for Marc Myer's upcoming Roman Scott collection.
Joined the Short Mystery Fiction Society this week! President: Robert Lopresti, Vice President: Kevin R. Tipple.
This week's progress on TDE13: Steve Carper sent nearly a dozen cover scans for his upcoming article on digest SF novels. Jack Seabrook tapped Walker Martin for help securing the final images from Mystery Book Magazine No. 16, for Jack's article on Leo Marr. And the color work on Bob Vojtko's six gag cartoons was completed. Four will appear on one page I've dubbed "Zowie" in tribute to the Lopez digest magazine from the 1970s.
Our current issue: The Digest Enthusiast No. 12 is available in print at Lulu.com and Amazon, and in digital formats at Kindle Books and Magzter.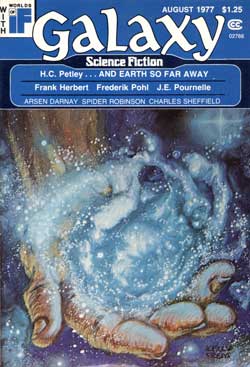 Vintage Science Fiction Digest
Galaxy Aug. 1977
Inside front cover by James R. Odbert
Contents Page
Calendar
James Patrick Bean's Editorial: Galaxy and the Galaxy
Harbert Charles Petley "…and Earth So Far Away" art by Stephen Fabian
Frederik Pohl: Postscript to Gateway
Charles Sheffield "Perfectly Safe, Nothing to Worry About"
Jerry Pournelle, PhD: A Step Farther Out (science fact)
Frank Herbert "The Dosadi Experiment"
Richard E. Geis: The Alien Viewpoint art by Tim Kirk
Arsen Darnay "Pheromonal Fountain"
Spider Robinson: Galaxy Bookshelf
Jay Brandon "The All-Soul is Calling Quinlan" art by Stephen Fabian
Directions (letter pages)
Galaxy/If SF Mart (classified ads)
Galaxy Science Fiction Vol 38 No. 6 August 1977
Publisher: Arnold E. Abramson
Editor: James Patrick Baen
Art Director: Stephen Fabian
Assistant Editor: Elaine Will
Science Editor: J.E. Pournelle, PhD
Contributing Editor: Spider Robinson
Consulting Editor: Theodore Sturgeon
Cover: Kelly Freas
5.25" x 7.75" 160 pages $1.25