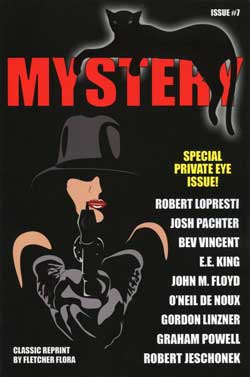 New Releases
Black Cat Mystery Magazine No. 7 Special Private Eye Issue
Contents Page
Michael Bracken: From the Cat's Perch
Robert Lopresti "The Charity Case"
Andrew Welsh-Huggins "The Whole Story"
Josh Pachter "The Stopwatch of Death"
Bev Vincent "The Fugitive with the Dragon Tattoo"
O'Neil De Noux "Love Pirate"
Graham Powell "Pictures of Lily"
Gordon Linzner "Show and Zeller"
John M. Floyd "Mustang Sally"
E.E. King "Funeral Potatoes"
Robert Jeschonek "The Makings of a Killer"
Fletcher Flora "Loose Ends" (Classic Reprint)
Black Cat Mystery Magazine No. 7
Publisher/Executive Editor: John Gregory Betancourt
Editor: Michael Bracken
Production: Sam Hogan, Karl Wülf
6" x 9" 168 pages
Print $13.00
Wildside Press Website

Digest Magazine Blogs
Phyllis Galde talks with Zecharia Sitchin, eminent Orientalist and biblical scholar at Fatemag.com.
LaToya Jovena, whose "The Winner" appears in the upcoming EQMM Nov/Dec 2020, explains where she gets story ideas at Something is Going to Happen.
The October eNewsletter is out from Pulp Literature.
Rosemary Claire Smith talks elections at The Astounding Analog Companion.
Digest Magazine Reviews
Robert Lopresti reviews "The Whole Story" by Andrew Wlesh-Huggins from Black Cat Mystery Magazine No. 7 at Little Big Crimes.
Storytime
Jim Woessner's "The Hero" at Close to the Bone.
Abi Marie Palmer's "The Cult of Huggy Hamster" at Pulp Modern Flash.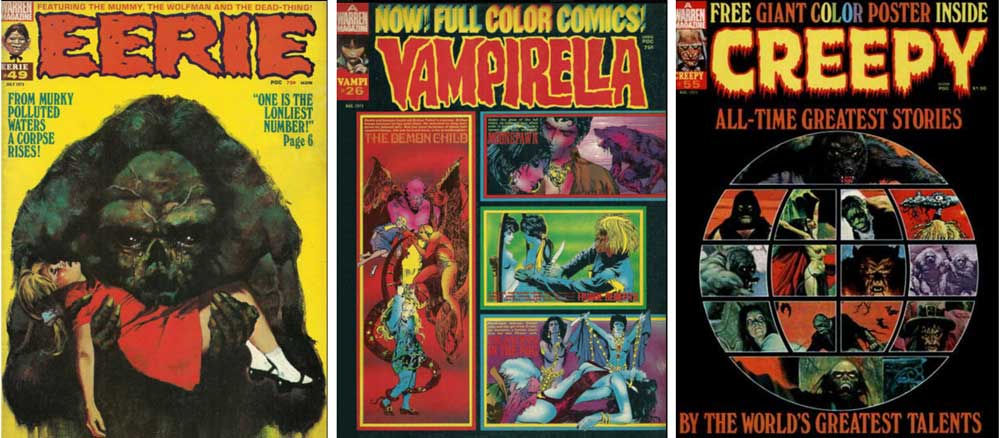 TDE Contributors' Corner
Uncle Jack (Seabrook) and Cousin Peter (Enfantino) review Eerie No. 49, Vampirella No. 26, and Creepy No. 55 at bare•bones e-zine.
TDE Booksellers
Bud's Art Books' latest weekly NEW ITEMS blog post headlines Spectrum 27.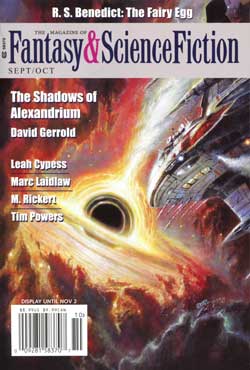 Readin' and Writin'
This week's reading included wrapping up the current issue of Fantasy & Science Fiction, an ecclectic mix of entertaining fiction and features. My favorite stories were Marc Laidlaw's "Weeper," Leah Cypess' "Of Them All," James Sallis' "The Cry of Evening Birds," and Brian Trent's "The Dog and the Ferryman." The introduction to Laidlaw's yarn also highlights his Games column with the promise "We think you'll appreciate his insights into the narratives of this new-ish medium, even if you don't play games." I don't, but it did prove to be an issue highlight. I also greatly enjoyed Jerry Oltion's Science column on the science of printing. If you hurry, you can still find the issue on newsstands or order a copy directly from the publisher online.
Alec Cizak sent me the first batch of stories he's selected for Pulp Modern Vol. 2 No. 6 and I've begun the layout. We're going with a two-column layout this time to look more like the pulps and digests of old.
Rick McCollum sent the final art for my story that will appear in The Digest Enthusiast No.13. Fab as usual. It's already in place in the issue, which is progressing nicely. Also completed the retouch on the covers for Steve Carpers' new article.
Our current issue: The Digest Enthusiast No. 12 is available in print at Lulu.com and Amazon, and in digital formats at Kindle Books and Magzter.