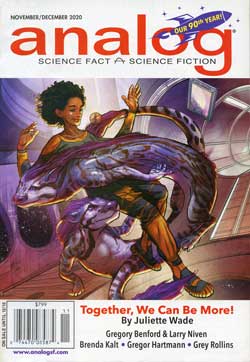 New Releases
Analog N/D 2020
90TH ANNIVERSARY RETROSPECTIVE REPRINT
CALL HIM LORD, Gordon R. Dickson
NOVELETTES
TOGETHER, WE CAN BE MORE!, Juliette Wade
THIS HARD WORLD OF UNWANTED BEAUTY, Evan Marcroft
TRIAL AND ERROR, Grey Rollins
WINTER'S SPRING, A.P. Hawkins
ENTER THE FUNGICENE, J.M. Swenson
SHORT STORIES
A PURPOSE FOR STARS, Brad McNaughton
GHOST STRIKE, Brenda Kalt
PEACEWEAVER, Marissa Lingen
THE POLAR BEAR SLEEPS ON, M. Bennardo
COURTSHIP FTL, Mary E. Lowd
BELOVED TOILER, George Zebrowski
BROUGHT NEAR TO BEAST, Gregor Hartmann
ASLEEP WAS THE SHIP, Eric Del Carlo
STATE OF GRACE, Clancy Weeks
LAZARUS, UNBOUND, Liam Hogan
ASHES, Mario Milosevic
WHY THINGS WORK ON A STARSHIP, Stephen R. Loftus-Mercer
FLASH FICTION
EVENT, Timons Esaias
SPECIAL FEATURES
THE WOMEN WE CAN SEE IN ANALOG, Marie Vibbert
JUST THE FACTS: HOW ARTICLES CAME TO ASTOUNDING, Edward M. Wysocki, Jr.
SCIENCE FACT
BIG SMART OBJECTS, Gregory Benford & Larry Niven
POETRY
SO MANY BLANK MOONS, Holly Lyn Walrath
THE RETURN, G.O. Clark
READER'S DEPARTMENTS
EDITORIAL: THEREFORE, I KNEW HIM, Trevor Quachri
THE ALTERNATE VIEW, John G. Cramer
IN TIMES TO COME
THE REFERENCE LIBRARY, Don Sakers
BRASS TACKS
UPCOMING EVENTS, Anthony Lewis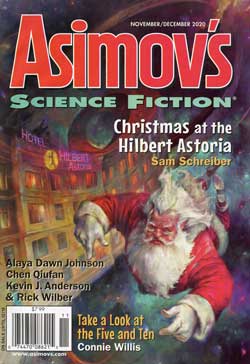 Asimov's N/D 2020
NOVELLA
Take a Look at the Five and Ten by Connie Willis
NOVELETTES
Christmas at the Hilbert Astoria by Sam Schreiber
The Hind by Kevin J. Anderson & Rick Wilber
Forger Mr. Z by Chen Qiufan, (Translated by Andy Dudak)
Return From the Stars by James Gunn
Pull It From the Root by Zack Be
The Long Iapetan Night by Julie Novakova
SHORT STORIES
The Mirages by Alaya Dawn Johnson
Grief, as Faithful as My Hound by Marissa Lingen
Footprint by Kate Maruyama
Return to Glory by Jack McDevitt
POETRY
After a Year of Solitude by Lora Gray
Archaeologists Uncover Bones, Bifocals, a Tricycle by Steven Withrow
Black Box Sonnet #13,041 by Garrison Kammer
Protozoan Pride by Peter Payack
Let Them Go by Darrell Schweitzer
DEPARTMENTS
Guest Editorial: Where We Came from Is Where We're Going Allen M. Steele
Reflections: Finding the Mountains of Madness by Robert Silverberg
On the Net: What Information Wants by James Patrick Kelly
Next Issue
On Books by Paul Di Filippo
The SF Conventional Calendar by Erwin S. Strauss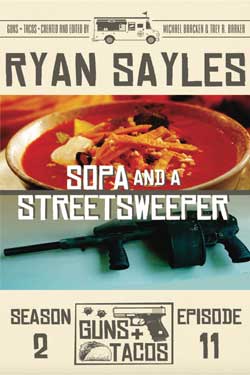 Guns + Tacos Season 2 Episode 11
Announcement: We are thrilled to be releasing the fifth episode of our second season, Sopa and a Streetsweeper by Ryan Sayles.
Beau is a hero.
He's also the kind of guy who, when he patrons a taco truck, is as interested in their food as he is their black-market firearms. And the special is soup paired with a streetsweeper shotgun.
When Beau puts the special to use at a Black Friday sales event, he unintentionally starts a full-blown, storewide shoot-out. But he escapes, and takes with him an abandoned little girl he rescued. Maybe she'd like some soup too.
In his apartment, oblivious to the fierce manhunt for the child, Beau discusses just how badly he screwed up the Black Friday shooting with his underhanded neighbors. Then SWAT arrives, but SWAT's never dealt with someone like Beau. Concerned for the little girl's safety, Beau has to reach deep down to become the protector she needs.
After the fires have been put out, the bodies sorted and the wreckage cleared, Beau's gonna be hungry. Fortunately, soup is very filling and a lot of taco trucks offer it.
Guns + Tacos Season 2 Subscriptions

Digest Magazine Blogs
Kewaunee Lapseritis' "Sasquatch: A Terrestrial-Extraterrestrial?" at Fate Magazine blog.
ECR compiles the Top Tem Hammer Horror Films of All Time! at EconoClash Review blog.
Eric Del Carlo, whose "Asleep Was the Ship" appears in Analog N/D 2020, explores the dilemma Covid-19 poses for near-future SF writers at The Astounding Analog Companion.
Jehane Sharah, whose "Words Don't Kill" appears in EQMM N/D 2020, explores "The Scents of an Ending" at Something is Going to Happen.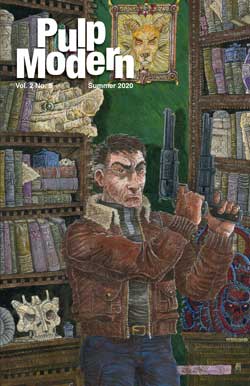 Kate Maruyama's key take-away from a panel of writers mired in 2020 at Asimov's From Earth to the Stars.
Digest Magazine Reviews and Reflections
R.T. Lawton examines series evolution via "A Matter of Values" from AHMM N/D 2020 at SleuthSayers.
Matthew X. Gomez reviews Pulp Modern Vol. 2 No. 5 at EconoClash Review.
John O'Neill teams with Victoria Silverwolf to review Weirdbook No. 43 at Black Gate.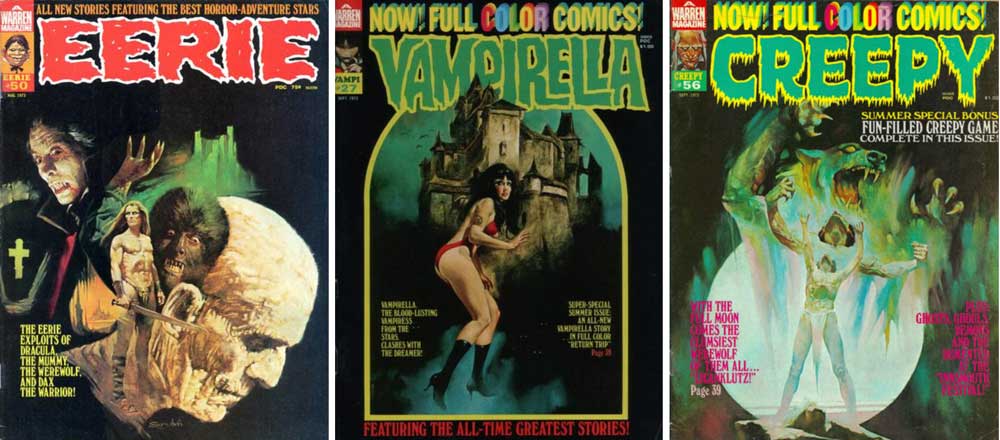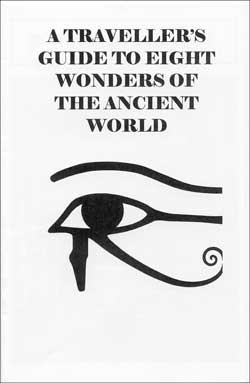 TDE Contributors' Corner
Uncle Jack (Seabrook) and Cousin Peter (Enfantino) review Eerie No. 50, Vampirella No. 27, and Creepy No. 56 at bare•bones e-zine.
Marc Myers has released a new zine: A Traveller's Guide to Eight Wonders of the Ancient World filled with full page collage art, complete with a guided tour program. Contact Marc Myers for ordering information.
Storytime
David James Keaton's "Dolla Dolla Bill Wall" at Tough Crime.
Michael Carter's "Terminal Island" at Pulp Modern Flash.
Mark McConville's "Monumental Strength" at Close to the Bone.
TDE Booksellers
Bud's Art Books' latest Weekly New Items blog headlines 2021 Calendars.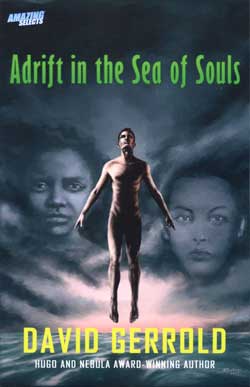 Readin' and Writin'
The third edition of Amazing Selects, Adrift in the Sea of Souls by David Gerrold, features three stories by the famed author as well as introductions by Adam-Troy Castro and publisher Steve Davidson. The first, from which the collection gets its title, mixes time travel and head hopping into a satisfiying posit on reincarnation and existence.
"The White Piano" is a magical fantasy laden with a love for life, art, and beauty. "Jacob in Manhattan" presents a fresh new take on one of horror fiction's oldest, most reliable bloody legends. A trio of 5-star stories wrapped in wonder, invention, and heart. The Author's Afterward adds a hard-won lesson on storytelling for aspriing writers and pros. A terrific collection.
Our current issue: The Digest Enthusiast No. 12 is available in print at Lulu.com and Amazon, and in digital formats at Kindle Books and Magzter.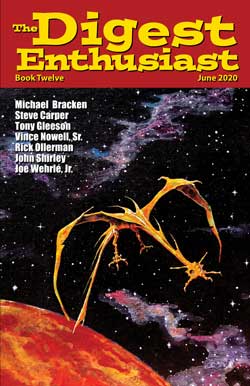 Vintage Digests
Todd Mason shares vintage covers and contents from F&SF, Fantastic, Shock, Fear, Science Fantasy, Fantastic Universe, and Macabre at Sweet Freedom.
Vocabulary: Cyanotic
"Her fair and sunburned face had gone absolutely corpse-gray with terror, making the golden freckles stand out with greater prominence, and her lips were blue and cyanotic."
"The Mansion of Unholy Magic" by Seabury Quinn Startling Mystery Stories No. 1 Summer 1966