Several great new releases in the last week or so: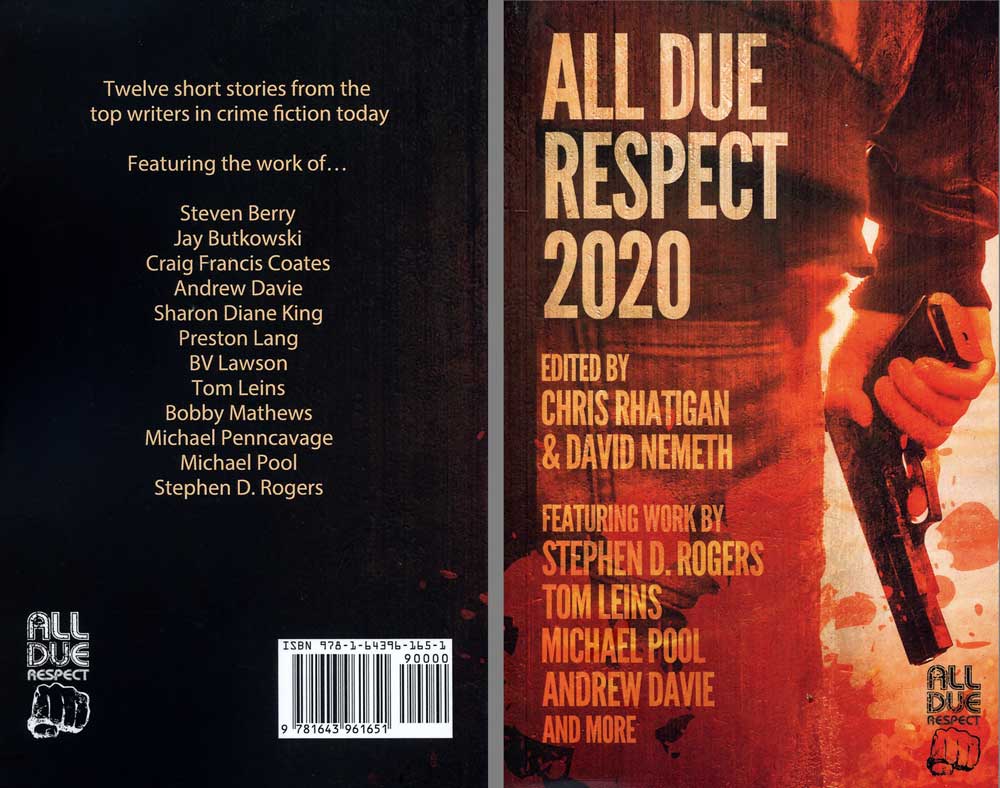 All Due Respect 2020
Featuring the work of Stephen D. Rogers, Tom Leins, Michael Pool, Andrew Davie, Sharon Diane King, Preston Lang, Jay Butkowski, Steven Berry, Craig Francis Coates, Bobby Mathews, Michael Penncavage, and BV Lawson. Edited by Chris Rhatigan and David Nemeth.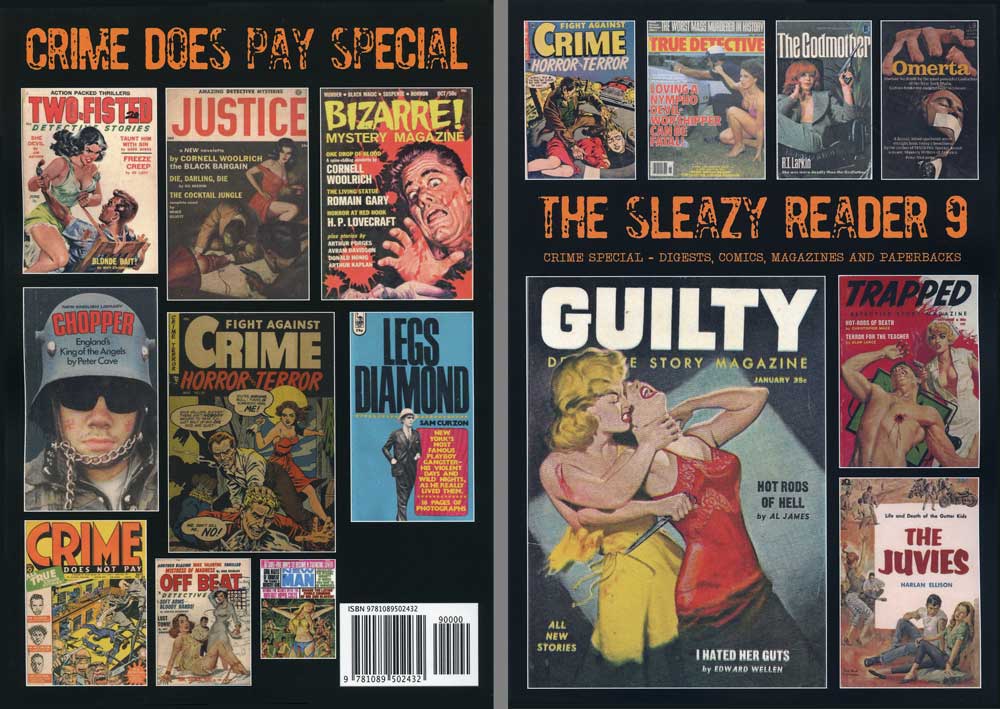 The Sleazy Reader No. 9
Crime special! Sleazy reading in the crime genre, with articles on 1950s sleazy digest magazines, comics, paperbacks and true crime magazines. Includes the life and death of True Detective magazine, pre-code comics theft from EC Comics, when the crime genre went hardcore, Harlan Ellison in the crime digests, Crime Does Not Pay comics, Mafia true-crime paperbacks. And more! 74 full color pages, loaded with illustrations.
Print $10.99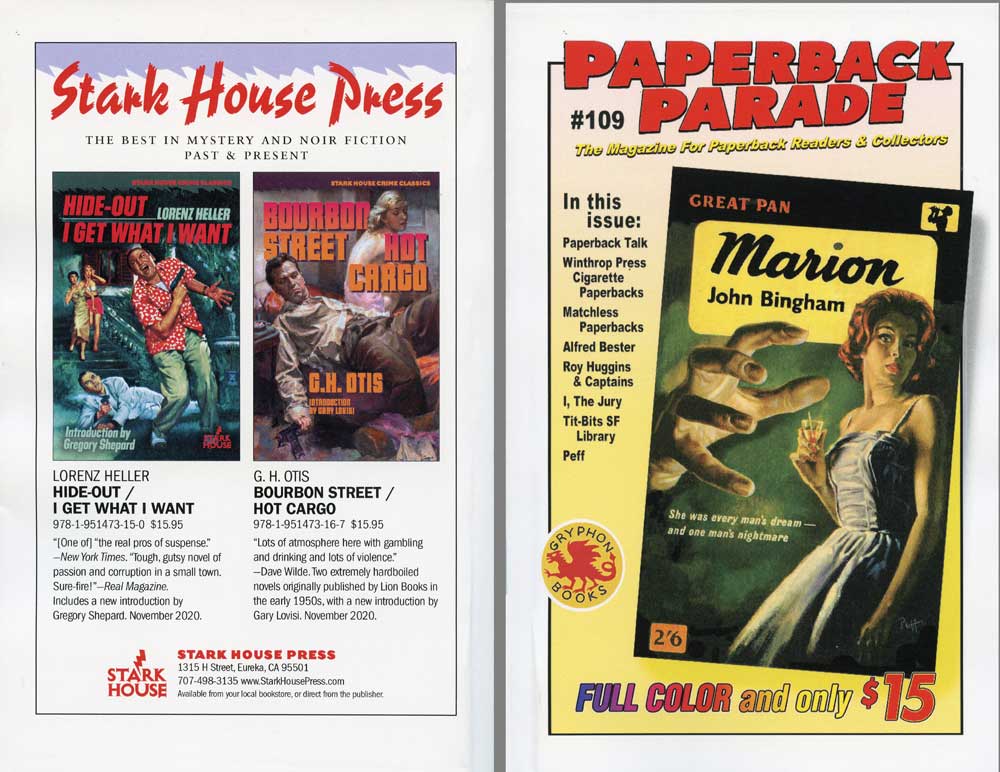 Paperback Parade No. 109
Contents
Gary Lovisi: Paperback Talk
Gary Lovisi: The Master Artist: Sam Peffer
Tom Cantrell: How Roy Higgins Managed the Adaptation of the Novel Captain and The Kings for the 1976 TV Miniseries
Gary Lovivi: Collecting The Winthrop Press in Very Tiny Paperbacks
Jim Fitzpatrick: The Persistent Image of "I, the Jury"
Richard Greene: Matchless Paperbacks
Jon D. Swartz: Alfred Bester
Phil Harbottle: The Tit-Bits Science Fiction Library
Paperback Parade No. 109 Nov. 2020
Editor: Gary Lovisi
Designer: Richard Greene
~5.5" x 8.5" 100 pages, full color throughout
$15 + postage for a single issue
$40 for three-issue subscription
Gryphon Books website
Mystery, Crime, and Mayhem No. 1
This new mystery and crime digest debuted in June 2020. Every issue is themed–this one is built around private eyes. MCM is a well-concieved series, delivered in a pleasing package. The tone is soft-boiled, with plenty of character development and embellished settings. My favorite in this edition was the story by editor Leah Cutter: "Going Deeper."
Print $12.99 Kindle $4.99
Oddities and Other Grotesques
The Roman Scott collection is nearly complete. Editor Marc Myers is giving the files a final review and completing the setup at Lulu.com. The book topped out at 168 pages and includes over 14 issues of Scott's comix and art zines.
Pulp Modern Vol. 2 No.6
The initial layout is complete. Ran Scott is busy on the issue's artwork and the book will be out shortly after he finishes up his work.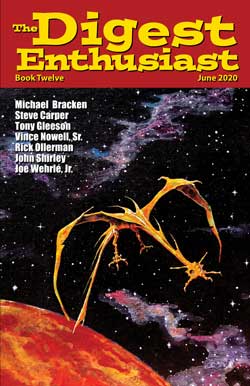 The Digest Enthusiast No. 13
Finished proofreading the bulk of the issue and made various corrections to the art and copy. All that remains is the front-matter and compiling the News Digest. I'll work on that next week before Thanksgiving.
Our current issue: The Digest Enthusiast No. 12 is available in print at Lulu.com and Amazon, and in digital formats at Kindle Books and Magzter.