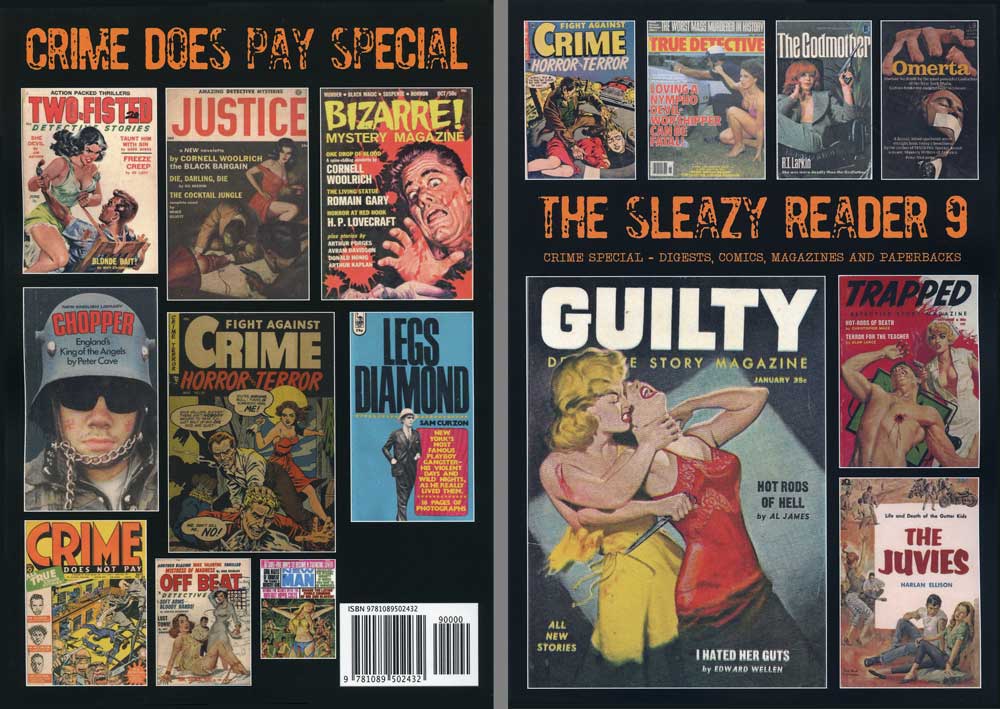 With its emphasis on digest magazines, this issue of The Sleazy Reader (No. 9) is my favorite thus far. The digest-centric contents include an overview of Manhunt contemporaries like Trapped, Guilty, Hunted, Pursuit, etc.; a piece on Pontiac Publishing's Sure Fire, Off Beat, and Two-Fisted Detective Stories; a review of Off Beat Jan. 1960; and "The Mad Dog of Digests" highlighting the crime fiction of Harlan Ellison. Plenty to make this issue a must-have for digest enthusiasts, but there's much more. 
Two pre-code crime comics: Crime Does Not Pay and Fight Against Crime are strapped in the hot seat for a brutal interrogation. Mafia mania gets a nod with pieces on the Americana line from Monarch Books, The Godfather Series (beyond Mario Puzo), and Belmont's novels by Peter McCurtin. TSR transitions from the series Mafia Operation to the sleazy side of Joe Riggs and Peter Chambers via "Investigated Sleaze-Noir."
Johnny Marr of Murder Can Be Fun fame, traces the peaks and valleys of the greatest true crime magazine, True Detective, over its remarkable seventy-two-year reign. By the time the issue winds down, there's still room for a piece on the banned books of New Zealand, and M.E. Knerr's Mike Travis series. Whew, there's something for nearly every genre book lover in this issue.