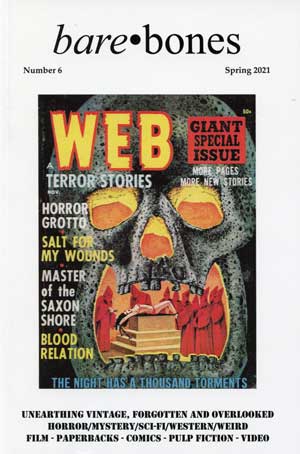 bare•bones [#6 Spring 2021] ed. Peter Enfantino, John Scoleri (Cimarron Street Books, $9.95, 110pp, digest)
1 • Contents Page
2 • Dueling Editorials • Peter Enfantino, John Scoleri • ed
3 • The Overlooked Library • Don D'Ammassa • ar
10 • Lunar Trajectory: Moon of the Wolf on Page and Screen • Matthew R. Bradley • ar
14 • Mistress of the Putrifying Lash! A Complete Look at the Sleazy World of Web Terror Stories! • Peter Enfantino • ar
34 • The Pipes of Pan and its Dark Voices: Horror Anthology Series in Britain • David A. Sutton • ar
44 • Join the Lamb's Navy! Caroline Munro and the Lamb's Navy Rum Campaign • John Scoleri • ar
58 • Digging into Crime Digests: Private Eye (July–December 1953) • Richard Krauss • ar
68 • Ten Quick Tales • S. Craig Zahler • ar
74 • I Am Controlling Transmission: Collecting The Outer Limits on Home Video • Craig Beam • ar
89 • Sleaze Alley * Peter Enfantino • rc
_92 • Lust for Love, Harry Whittington
_93 • Sin Cult, Bruno Decesare
_94 • Syndicate City, William F. Frank
_96 • Sin Driver, David Andrews
99 • R&D: In Praise of Twilight Zone No, Not the TV Show • David J. Schow • cl
104 • A Good Cast is Worth Repeating • bi
Cimarron Street Books website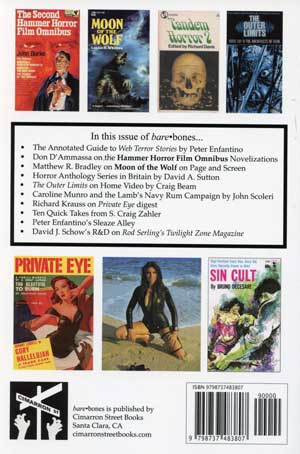 Contents formatted for inclusion in Phil Stephensen-Payne's Galatic Central reference website.
FictionMags Index Family Item Types & Other Abbreviations key.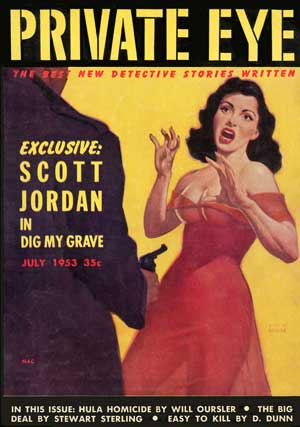 The issue above includes my third contribution to Bare•Bones, an overview and issue synopses of the short-lived crime digest Private Eye, published by John Raymond in 1953. It was a fine crime fiction magazine that included stories by Harold Q. Masur, Will Oursler, Dorothy Dunn, Day Keene, Hunt Collins, Alan E. Nourse, and many others. This edition of B•B also includes co-editor Peter Enfantino's coverage of the "shudder-pulp" digest Web Terror Stories, so there's plenty here for digest enthusiasts.
I've read all five previous issues of this reboot of Bare•Bones cover-to-cover and have started on this issue. It's an excellent pop culture treasure trove that I highly recommend. You can order copies from Bud's Art Books, Amazon.com, and all of the usual outlets for this type of independent gem.