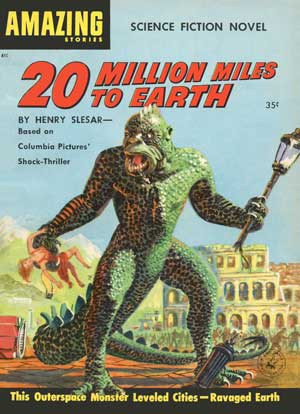 "As Shuster and Bailey rush to investigate, they find a strange reptilitan creature, eight feet tall with a prehensile tail. Dead—apparently electrocuted by the relatively low voltage of their power lines."
Henry Slesar (1927–2002) was a prolific author, scriptwriter, and copywriter, famous for his twist endings. He is created for coining the phrase "coffee break" during his early years as an advertising copywriter. His first fiction sale was "The Brat" (Imaginative Tales Sept. 1953).
Two years later he wrote the novelization of the Columbia Pictures' classic 20 Million Miles to Earth for Ziff-Davis in the the one-shot digest, Amazing Stories Science Fiction Novel.
Read the complete synopsis of Slesar's novel, with highlights of the differences between film and novel in The Digest Enthusiast No. 14. Available now:
14C (full color print)–$20.00 from Lulu.com and Amazon.com
14BW (b&w print)–$12 from Amazon.com
14 Kindle (full color digital)–$4.99 from Amazon.com
14 digital (full color digital)–$4.99 from Magzter.com